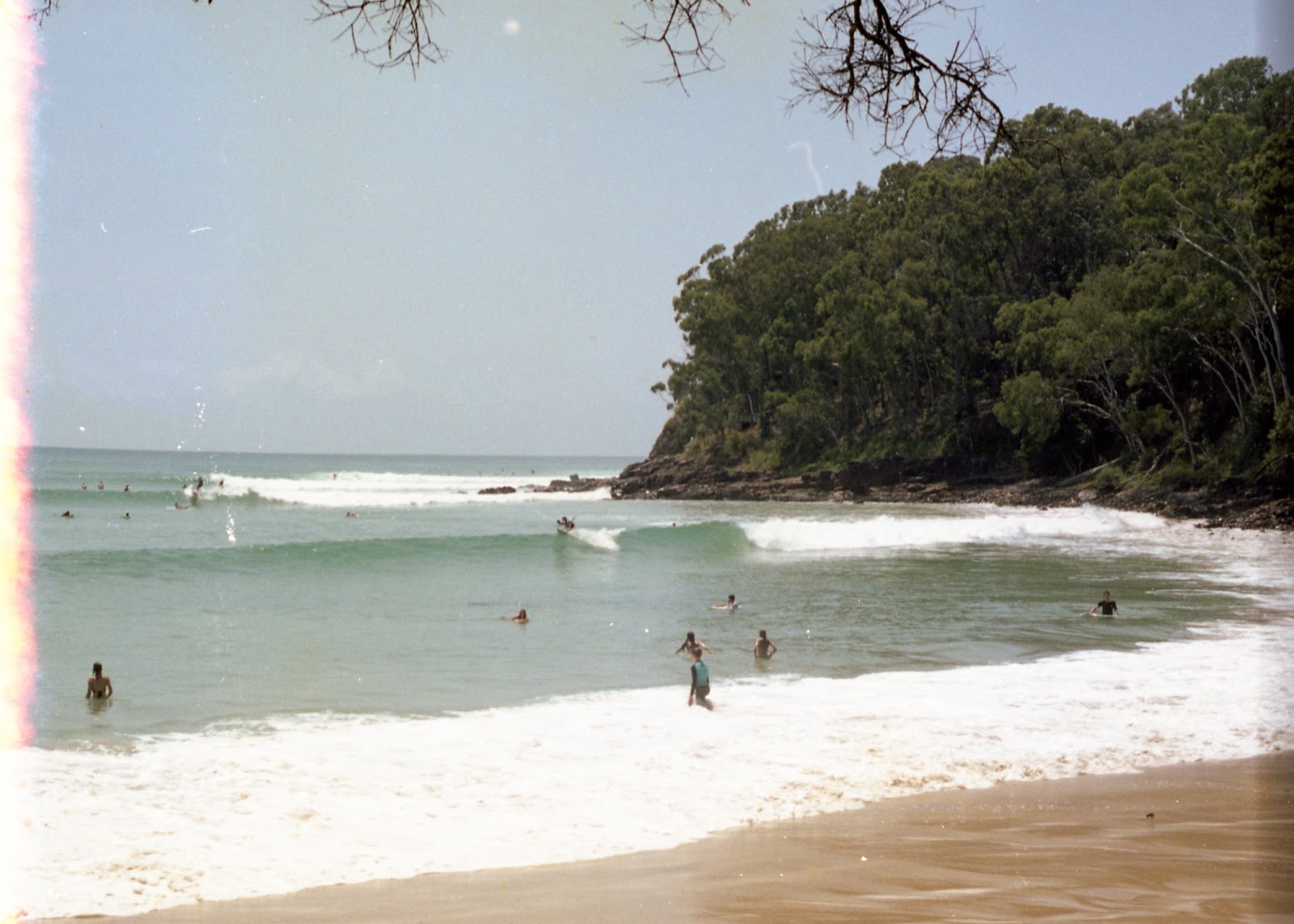 Little cove last week, filled with some of the world's best traditional longboarders is nostalgic, classic, and undeniably perfect. Photo: Casey Ripper, shot on Portra 160 35mm film.
The final half of this year's Noosa Festival of Surfing had some of the best waves I have ever seen for a longboard contest. The cyclone swell stuck around through Friday, and all of the national park's points totally lit up! I surfed my brains out Wednesday because I didn't surf in the comp again until Thursday... Which probably led to some tired arms for my heat, but it was so worth it! I walked down the long path to Tea Tree thinking that it would be big but longboardable, but as soon as I paddled out, I saw that the shortboarders were making it from all the way out the back, where the takeoff was way too critical for a leashless logger.
I tried to fight the incredibly strong sideshore current on the inside for about a half hour, and only ended up catching one wave, so I let the sweep take me down to the next point at Nationals. Nationals was a bit better for logging, but the waves were super fast for a goofy footer. There were some connecting all the way from Nationals through Little Cove, and I waited around for one of those before settling in at Little Cove. While the waves were undeniably perfect there, there was also a large quantity of professional longboarders out, and I felt that the wave count was pretty limited for most surfers present. I went in sort of frustrated, but then I realized that I had actually caught at least ten extremely perfect waves - waves that some people might never get to surf - and I felt much more grateful for the experience.
On Thursday, my heat wasn't until the afternoon, so I went for a warmup surf in the morning and got together with some friends to watch the heats before mine in order to assess the conditions. As we watched, the tide got lower and lower... and the waves got bigger and bigger. By the time my division began, First Point was draining and very unfriendly to 9'5 single-fins. The girls in the heats before mine that chose to ride high-performance longboards excelled, while most of the girls on traditional logs had a relatively difficult time getting the outside waves. I of course only have my one longboard here, and weighing in at 20-something pounds, it is pretty much anything BUT high pro. Oh yeah, there's also that whole issue of being goofy foot at a speedy right point break. Bummer. I knew if I sat too deep there would be no chance of making it past, so I went to sit wide in my heat, and unfortunately didn't get the waves to advance to the repercharge for the final. I still had a great time and was stoked to make it through to be able to surf First Point practically alone again!
I surfed the rest of that day and enjoyed some groovy tunes at the festival's makeshift beach bar that evening. It was one of the most fun, surf-filled weeks of my life, with great friends from all over the world, so despite my less-than-stellar results, I'm still a very happy camper.