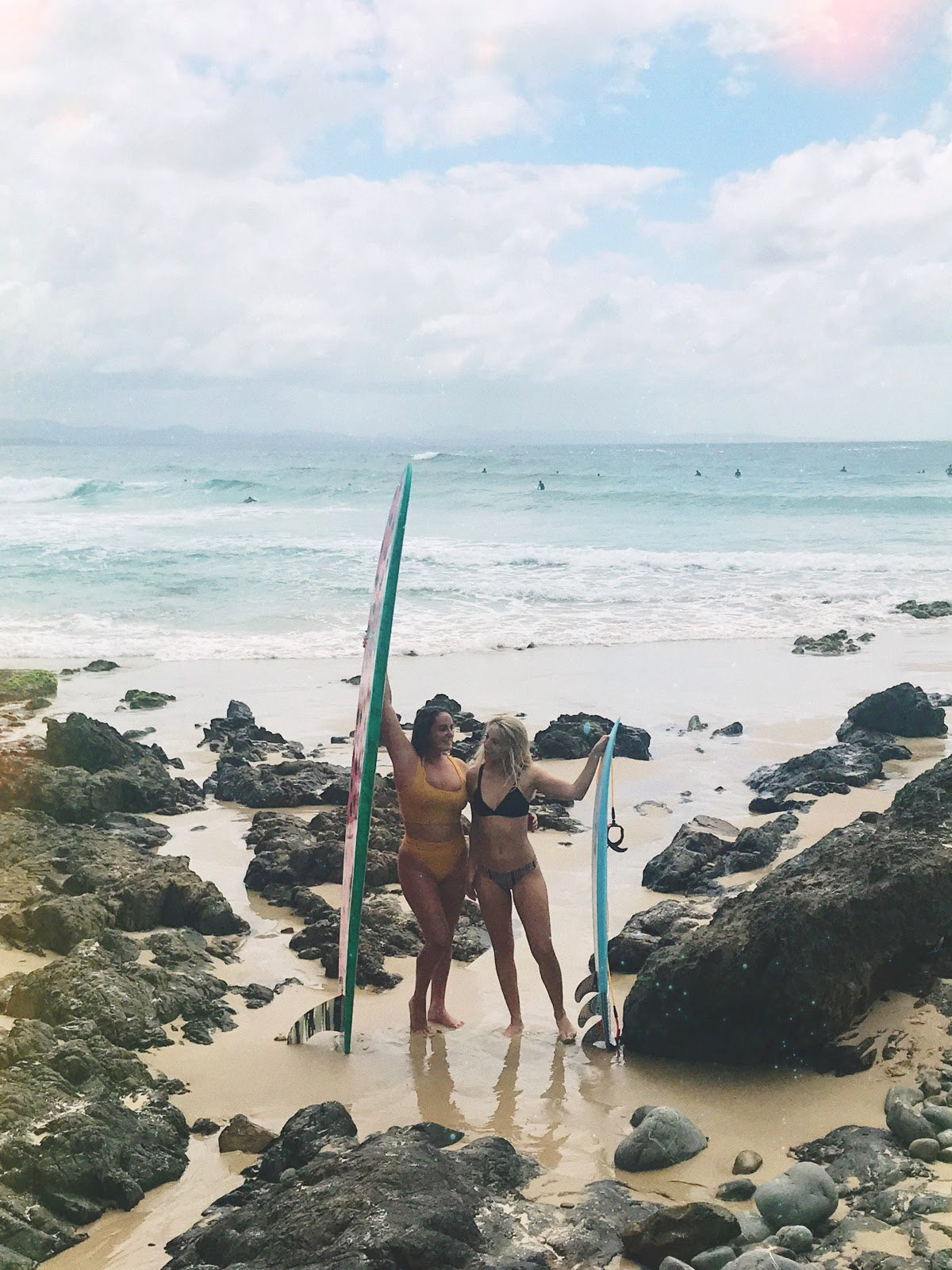 Our board preference is one of the only things we don't agree on!
Last week, I received a special visitor from home: one of my best friends in the whole world, Morgan! Morgan and I went to UC Santa Barbara together and were both on the surf team, and she also grew up in San Diego! We both love dogs, bikinis, food, surfing, and travel - and we talk every day, no matter where in the world we are. Morgan was with me during my month in Indonesia last August, and I haven't seen her since, so reuniting felt so good!
Morgan and her boyfriend (of course also my friend) Casey arrived to the Gold Coast a week and a half ago, because they planned on spending a few days watching the WSL Quiksilver Pro at Snapper Rocks - but unfortunately, the contest wrapped up while they were on the plane ride over! I happened to be driving by on my way down from Noosa, so I stopped by on the Goldy to say hello and welcome them to Australia. We went for a surf at Snapper and caught up a little, and then we split up for a couple days before they drove down to Byron Bay!
I was so excited to show Morgan and Casey around my new home, and luckily there was a swell on the horizon, so the two shortboarders wouldn't be bored with the conditions. They arrived Wednesday afternoon and we thought it would be a good idea to go for a surf at The Pass... but apparently, everyone else had the same idea, and there were about 200 too many people in the water. We still managed to score a couple of fun ones on the inside and were optimistic for the days to come. Thursday morning we surfed again (with a million more of our peers) and I took them to dinner at one of my favorite local spots, followed by a concert at the Great Northern Hotel aka The Northern, one of Byron's oldest buildings and most fun music venues!
Byron's best attractions are the surf and the breakfast food, so most of our time together was spent either eating or at the beach (rough lifestyle, I know). We also went out to town at night, checking out the local bar scene and the multitude of buskers that perform on the streets. The funny thing is, back home, Morgan and I will take any excuse to get dressed up in fun outfits or costumes, be it for someone's birthday, a themed pub crawl, or just a normal night out. This past weekend, Volcom happened to be taking over The Northern, offering fun activities, giveaways, and live music from up and coming Australian bands. On Saturday night, they hosted an 80s punk dress-up night, so we actually got to throw together a classic Steph-and-Morgan outfit extravaganza!
Morgan and Casey left this morning to head south to Angourie for a couple days, before flying down to Victoria for the Rip Curl Pro at Bells! Although our time was short, seeing Morgan was a lovely slice of home, and I know it won't be long before we are together again, whether in the United States, Australia, or beyond!