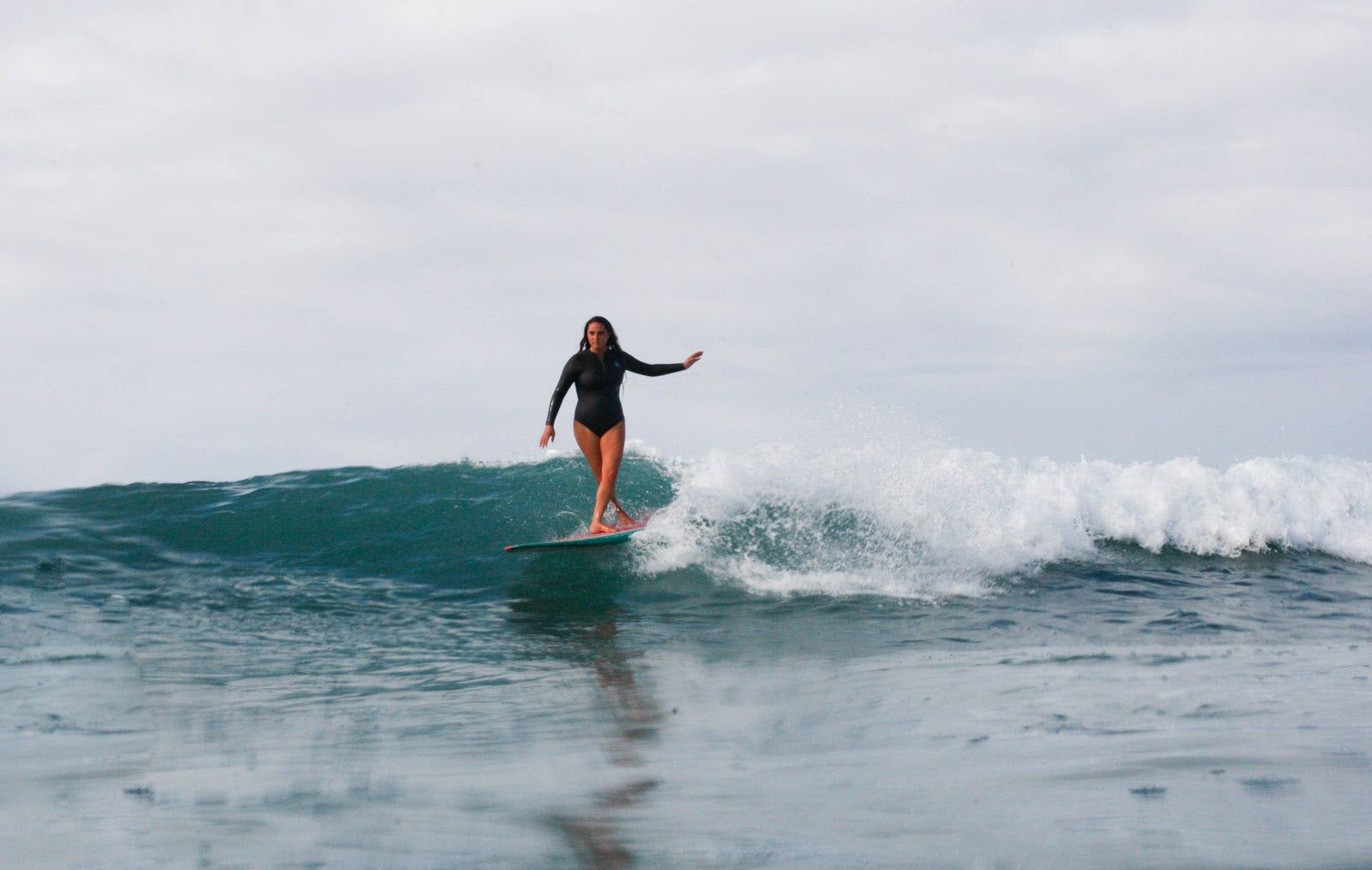 With water in the mid-70s and plenty of waves like this, the weekend was one for the books. Photo by talented young Sydney-sider
Spencer Edwards
.
Last Wednesday, my mom and my brother left to go back to California (wahhh!), and I packed up my van and headed south for the Crescent Head Mal* Club's annual Malibu Classic. Unfortunately, Van-illa Ice wasn't doing so hot and was struggling with acceleration, so what was meant to be a four-hour drive became a seven-hour ordeal, but what's a road trip without a couple of stitch-ups, right? The good thing was that once parked up in Crescent, I didn't plan on driving at all for the rest of the weekend, so I was able to focus on enjoying the surf and on the competition!
I walked into Crescent's "Country Club" (think more Elk's Lodge, less Lomas Santa Fe) for the contest check-in, and found some friends that also were competing. Although I surfed in the Noosa festival, that was a giant international production, and I haven't been to any standard club contests so far in Australia. Observing this event was a total trip with the cast of characters - it was like a parallel universe of California's coalition longboard contests. I almost felt like I already knew all the older dudes that would be competing in the over 50s, 60s, 70s, etc. As per usual, the competitors were mostly in the retiree demographic, but there were also plenty of divisions for the youngsters - such as the Open Women's division in which I was entered.
The waves were actually pumping, but not in the perfect peeling way Crescent is described. Still, it was better to show up to swell, as opposed to when I first went there in November and waited around for days. I didn't have a heat on Thursday, so I just free surfed and spent time with new and old friends, who came from all over New South Wales and even down from Queensland! On Friday, the weather sort of turned for the worse with some rain showers just before my heat, but the waves looked fun with consistent overhead sets rolling in. As soon as I paddled out, I figured out that things are not always as they appear... the waves were super hard to catch, and if you chose the wrong one, you'd get blown out the back of it.
As they say, you win some, you lose some... and yeah, I lost this one. I had sort of a shocker and didn't catch any proper waves within the first half of the heat. I finally got a pretty average dribbler at around the ten-minute mark and got a proper set wave during the last minute. I took off all the way out the back of the point, and rode it to the shore, hoping that it would be enough of a score to push me through, even though my backup wasn't anything special. Sadly, I just missed the boat with a fourth-place finish. I wasn't too upset though, because I got to surf a world class spot with only five other girls, and my one good wave was so fun!
There were heaps of people around and those of us who didn't make it through just surfed, ate at the bakery, and watched the comp all weekend. The inside section just outside the flags was actually better than the contest zone at times, and I got to share waves with some of the best young longboarders on the East Coast, so even though I blew it in the contest, I have no complaints. Even though Creso is limited on nightlife (i.e. there is none), with the right crew, the country club can be a pretty poppin' place, and we played a million games of pool and spent way too much money on the claw game trying to get chocolates worth about two cents each.
I grew up going to the longboard club events up and down California, so it was super cool to see the Australian version at the Crescent Head Malibu Classic. It was essentially the exact same setup, just different people! I really like that Australian contests generally host some special divisions that I don't always see at home - such as logger and old mal. High-performance longboarding is still very prevalent in the competitive surfing scene here, so providing a separate platform for the traditional logging style is definitely something I can get behind. I know there are some contests in California specifically devoted to riding vintage boards (called old mals here), and occasionally there will be a division in the club events, but it seems to be a staple in this part of Oz, and its just amazing to watch surfers absolutely rip on boards made before 1967.
After the weekend wrapped up, I drove to the nearest area of civilization to find a mechanic. I had it checked out in Byron before driving down, and the guy said it was an issue with my carburetor, and that I'd need to call in a specialist to replace it, so I was prepared to be spending a lot of money getting it fixed. As soon as I told the mechanic in Kempsey (the closest little town to Creso) about the issues I was having, he asked if I'd had the fuel filter changed recently. I said no, but someone looked at my car in Byron, and that I was sure they would have checked out all the simple things like that. Well, the bad news is, apparently the mechanic in Byron didn't bother to check the fuel filter, because it was absolutely filthy, but the good news is, that was the only issue with my van, and now it's all fixed up and back on the road, running as good as new! I'm now in Port Macquarie, a town about an hour south of Crescent Head, and am going to start heading north this afternoon, hopefully spending the next few days camping and surfing along the way to Byron.
* For those who may not know, in Australia, they sometimes refer to longboards as malibus, or mals for short.