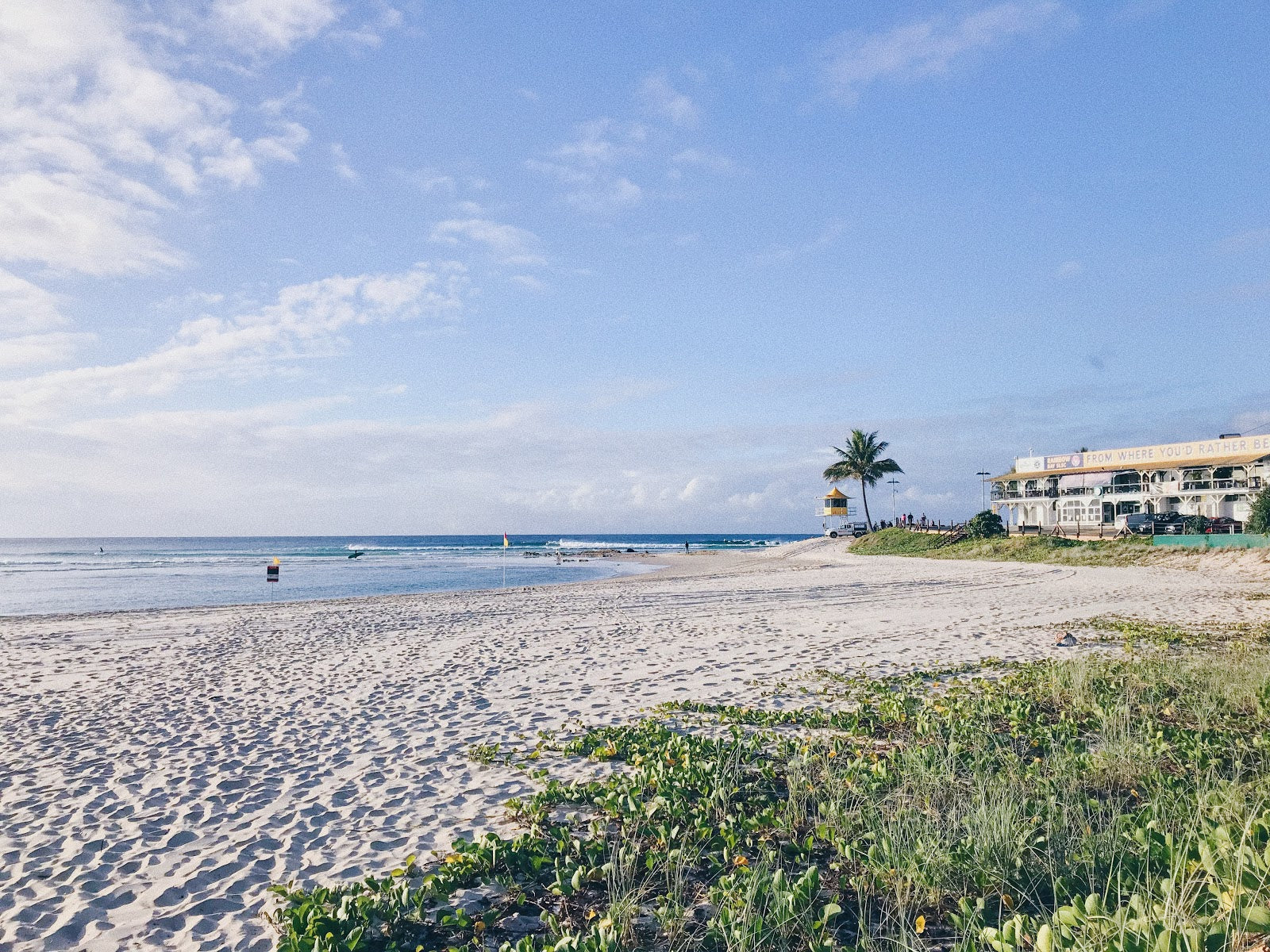 While this location is commonly associated with fast tubing waves and recognized as stop number one on the WCT, it also happens to be a great longboard spot on smaller days.
Much like California's abismal winter of 2018, Byron Bay has not been having the best of luck as far as winter waves go. There haven't been any really huge swells to begin with, but when there are pulses, they seem to be at steep angles that bypass the bay. Luckily, there is plenty of action happening both to the south and the north, so when I have the chance to go for a bit of a drive, I gladly take it! Last week I was a bit bored of doing the standard loop: check Byron's five most consistent spots, watch windy ankle slappers for 20 minutes, and end up not surfing. So, after checking the furthest north spot, instead of heading home (and spending the day doing work and being productive), I decided to keep on driving.
I checked a handful of places along the coast that generally are swell magnets, and while there were plenty of waves, the wind made them super messy and all over the place. I was about halfway between Byron Bay and Coolangatta, and at that point, I did not want to turn around defeated, so I bit the bullet and drove the extra 30 minutes to the southernmost stretch of the Gold Coast, hoping for some clean waves. The webcam for Snapper Rocks is up high somewhere, so it almost always looks decent, and most certainly cannot be trusted. I rocked up as the tide was starting to fill in, took one glance at the waves, jumped for joy, and threw on my springsuit. Although it wasn't looking epic, e.g., 2018 Roxy / Quiksilver Pro Gold Coast conditions, it was clean and very loggable.
Usually, if I'm going to surf Snapper, I sit on the inside point at Rainbow. I feel that as a non-local on a longboard, my unofficial takeoff spot must be on the inside of the shortboarders. That way, I can just go when they don't make the sections, without hearing any complaints (or death threats). However, the sand at Rainbow is a bit funky at the moment, and the waves aren't reeling through with their typical longboard perfection. So, I sat further out, and tried to be as respectful as possible to the local surfers. Thankfully, because it was a weekday, it was only super crowded, as opposed to super-duper extra mega crowded. I got my fair share when shortboarders would try to take off at the rocks, only to get blasted by backwash (cheers to the incoming tide for that one), and when individuals riding boards shorter than 7 foot couldn't paddle into the fatter waves.
After a three hour session, my stomach was making angry noises at me, so I went in for a feed and a stroll around town. Even though the more metropolitan parts of the Gold Coast are further north in Surfers Paradise, Cooly still has a bit of hustle and bustle, which is a nice change from Byron, where life moves very sloooow. I felt like I'd gotten my fill of good waves for the day, but I wanted to grab some extra to stock in my surf-bank, just in case the surf in the bay was going to continue its temperamental behavior. So, with an hour and a half left of daylight, I changed into my dry wetsuit (always good to have a spare!), and went back out for what I thought would just be a quicky. The waves drastically improved with the high tide, so I stayed out long after the sun retreated behind the out-of-place skyline of Surfers Paradise, juxtaposed with the long stretches of white sand beach lined with enormous Norfolk pine trees.
Blissfully surfed out, I made a pit-stop at my favorite ice cream place before cruising back down the coast. As I drove home, I thought about how often I would drive from Encinitas to Orange County, or from Santa Barbara to Ventura in order to find surf. For some reason, a one hour trip on the freeway seems a lot longer here than home, which may have something to do with the aforementioned pace of life in Byron Bay. Be that as it may, now that I've had a taste of winter surf on the Goldy, I have a feeling I'll be heading back up for more very soon.