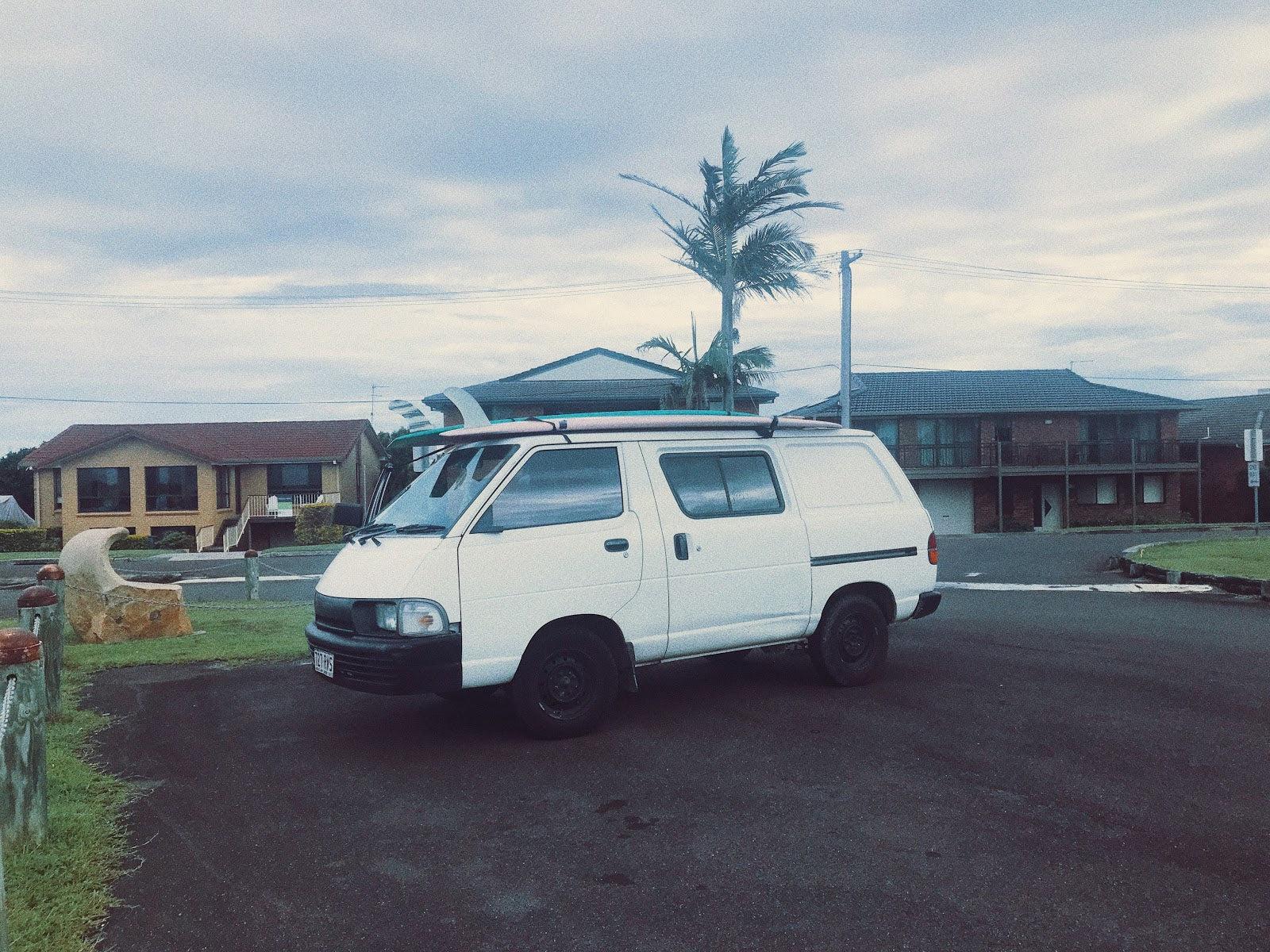 Liv's trusty steed - a 1993 Toyota Townace named Greg.
This past weekend, I ran into my friend Olivia Donnelly, who is originally from Santa Cruz, and was my neighbor in Isla Vista last year. Whenever the waves were flat in Santa Barbara, we would shoot down to Ventura and surf C-Street, eat tacos, and go thrift shopping. She's been in Australia since the Noosa Festival in March, van life-ing and surfing for a few months, and we've been able to catch up a few times so far. The surf forecast for the next few days in Byron Bay was lackluster, and the weather was dreary, so on Monday, we decided to revisit our surf mission days and head south in Olivia's van. We first went to check the surf at Evan's Head, a tiny town about an hour away. To our delight, we came across an epic surf spot (not naming names, of course) with only one person out. We shared wave after wave, and because of the lack of crowd, we laughed at the fact that we were able to be selective enough to pass up perfectly good sets; a humorous concept after battling the zoo that is Byron Bay lineup.
Is anyone else getting some serious Central California in the 1960s vibes from this view?
After that extremely enjoyable session, we debated camping overnight in that area, but agreed that it would be more of an adventure if we found another new spot to try out. As the sun set, we drove another hour toward Yamba, which is equally as teeny as our first stop. Our friend Matt lives down that way, so we stopped by his house for some tasty homemade curry, and then camped out in the van overnight in the pouring rain... which is how we found out that the van leaks. Oops. The following morning, the wet weather continued, which was definitely not motivating us to surf, so we had a slow start, checking lots of spots and drinking lots of hot chocolate. Finally, we paddled out on our logs somewhere near Yamba, quickly realizing it was not a super log-friendly spot, with rather pitchy takeoffs and threatening rocks on the inside. Regardless, it was fun to check another surf spot off the list, and to see a new town. One giant meal of fish and chips later, we drove back to Byron Bay, singing along to classic tunes, and it felt just like old times.