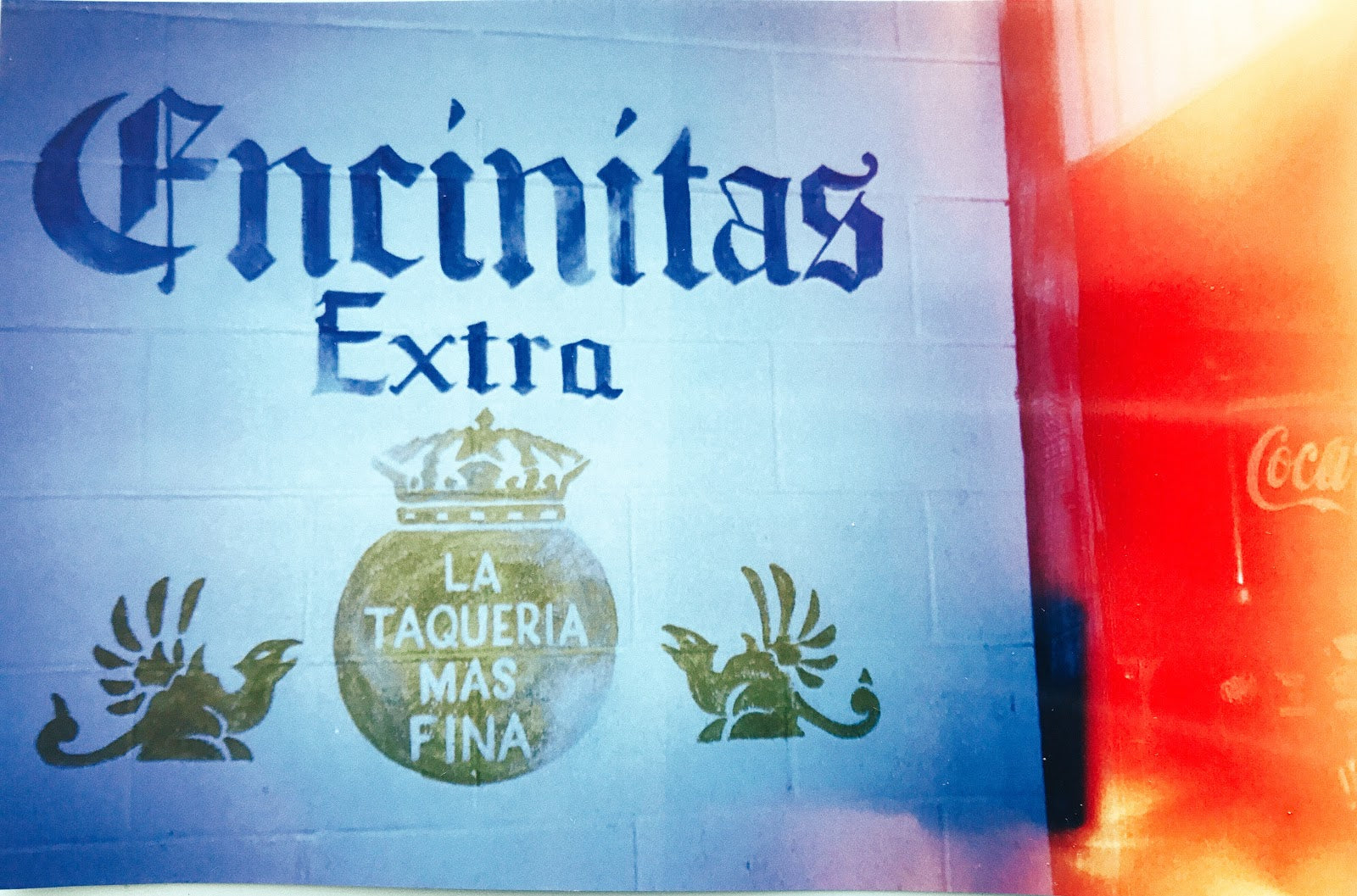 One of my Last Meals at the Taco Stand, Shot on 35mm Film
Since I've been away for about six months, I've taken some time to reflect on the things I miss most about the Golden State. I am absolutely loving it over here, and life isn't all that different, but some things just can't be replicated.
Mexican food.
I've said it before and I'll say it again. Australian Mexican food is extremely average. I'm pretty sure every Californian living in Australia thinks about our Mexican food at least once a day. While I make a pretty mean guacamole, standard-size avocados here can be up to $4 each, which doesn't exactly fit my 'recent college grad attempting to travel the world' budget. Instead of bringing chips and guac to pre-games or potlucks, I notice that people are really into things like crackers and dips. I've subconsciously filled the gaps in my diet with meals where tacos, fajitas, and burritos generally fit in with standard foods that are easier to find around here, such as burgers or sandwiches. Late night out? No nachos to be seen. The choices are either savory pies or kebabs. Not ideal mi amigos, not ideal.
My dog (and my people)
There are plenty of dogs and people in Australia, but they aren't MY dog or MY people. I love everyone I've met here and have some amazing new friends, and I've pet some really nice dogs, but i definitely miss the close friends and family. I've missed a few big events back home and had a lot of FOMO during the holidays. Even with the magic that is the internet, it's not the same as being there in person. I also am worried that Ruby (my dog) has forgotten about me... or worse, thinks that I abandoned her and am never returning. Ruby, if you're reading this, you are the goodest girl.
Thrift stores
The thrift stores (or op shops, as the Australians call them) are, well, not the best. They kind of make me sad. Back home, I spend quite a lot of time thrifting, and have found some gems for extreme bargains. Almost every shopping adventure, I'd find at least a few super cool vintage pieces nestled within the junk. I've been to some rad vintage shops in Australia, but they are all so super expensive, and I can't bring myself to pay $100 for something I could find for $2 at home (I'm looking at you, suede fringe jackets). The Lifeline, Salvation Army (Salvo's) and St. Vincent De Paul (Vinnie's) op shops are the closest things to our thrift stores, price-wise, but the stuff inside is generally pretty mediocre. Picture jeans from 2006 and non-ironic old quiksilver tees, with no hidden treasures hidden deep within the clothing racks, waiting to be discovered.
My Car
Ah, my sweet, sweet Tacoma. How I miss thee. Reliable and comfortable, with a bangin' sound system and fuzzy seat covers. I'm loving my van, despite having to deal with a broken fuel pump yesterday... but it's not the same as the ol' Taco. I didn't sell my truck before I left home, because I don't want to return to California completely broke and out of a car, and partly for sentimental reasons. My Tacoma is my first car, and I've driven it up and down the stretch of coast from San Diego to Santa Barbara a zillion times. It is comforting to envision it sitting there, waiting for me to come back one day, in all its blue Toyota glory.
Health Food / Specialty Grocers
There are plenty of small scale, independently owned organic foods stores and fruit and veg shops in this country, but, mainstream Australia is still behind on the grocery revolution. Every time I go to get groceries at the generic Woolworths or Coles (Ralphs or Vons, essentially), my heart yearns for the specialty products from Trader Joes, or the deli counter at Whole Foods. We've got Aldi, which is the company that owns TJ's, but its not the same thing at all. I admit it, I'm a total slave to our local Lazy Acres, and I am going through withdrawals without the poke bar! The standard groceries here are so expensive anyways, they are comparable to, if not more costly than, our health food grocery chains. So hey, @Sprouts @TraderJoes @WholeFoods @LazyAcres, lets go international.
Winter
Yes, it is true. I, Stephanie Schechter, sun-worshipper, am missing wintertime. As I sit here in the 80 degree heat, I am thinking about winter back home. Before you call me crazy, hear me out. Although our San Diegan winter is about as mild / temperate as it gets, you still get that distinct seasonal feeling in the air. Chasing the endless summer is almost too nice; the weather is so beautiful all the time, that I feel guilty if I'm ever hanging out indoors. Although I will see an Australian winter in a few months, Byron Bay is even warmer than San Diego, with water temperatures rarely dropping below 73. I miss our close proximity to snow, wearing pants, and eating warm food without breaking a sweat. I actually am hoping for a day of inclement weather sometime soon, just to have an excuse to have a do-nothing-inside day!