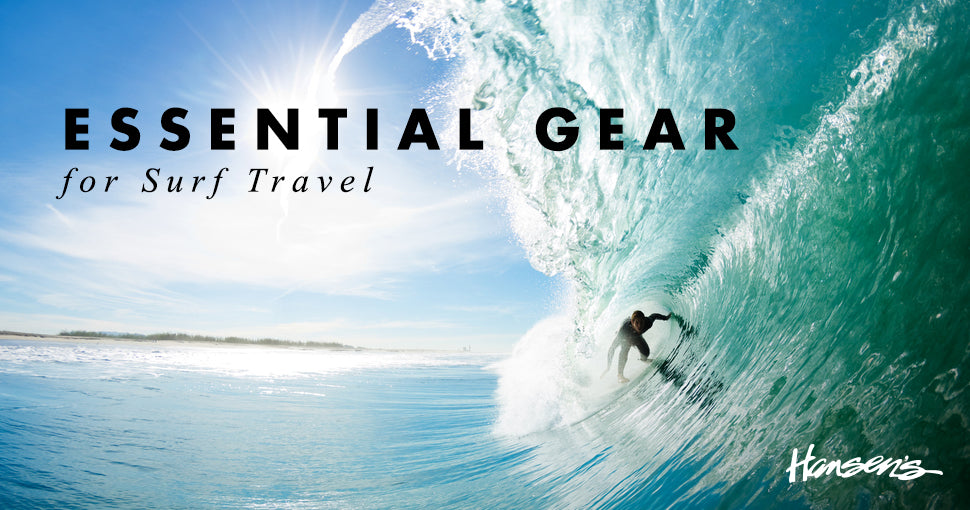 Winter is upon us, which means the northern hemisphere is about produce the purple blobs that get our hearts racing. Whether you already clicked "buy" on plane tickets, made a hotel reservation, or are counting down the days to jetting off we have to break it to you, proper packing can either make or break your dream trip. To save you some money and potential time out of the water, we have compiled a list of items you should always pack for your long haul surf trips.
Surfboard: Bring the boards that best fit the waves you are traveling to. While the option to rent boards is usually available, don't skimp out on proper equipment. There's nothing worse than not being able to take full advantage of the waves you only get to surf for a week.
Board Bag: Board bags have a dual packing purpose - they fit your boards, and should fit all your clothes and gear too. The tendency to overpack is always a struggle, but if you're going somewhere tropical, all you need are boardshorts, shirts, wax, sunscreen and maybe a few other items for sun/bug protection! Tip: make sure to throw a pair of trunks / bikini in your backpack, as well as a change of clothes. That way if your board bag doesn't show up, at least you'll be set for a day.
Wetsuit: Check the water temperature before you go and pack accordingly. If you'll be in warm, tropical water, a wetsuit top (mostly for sun protection) is all you'll need. If you're going somewhere like Ireland, pack the booties, 4/3 and a hood. Whatever the conditions, pack accordingly because the more comfortable you are, the longer you can surf. Tip: bring plastic bags or wet/dry bags so you can throw your wetsuit and other ocean-soaked items in your board bag without getting your clothes wet.
Surf Watch: Don't blow it and miss the right tide! If you are going to a more remote beach, a surf watch can help you determine the size of surf and times of high and low tide so you can plan your surf sesh in advance.
Sunscreen: You'll need sunscreens for both body and face. We recommend a sunscreen spray for body and a stick with zinc for face protection. We stock Sun Bum, Surface Sun Systems and Headhunter sunscreens, all of which make lotions and sticks. Toss them in your board bag and you'll have one less thing to buy when you arrive. Bonus: using the spray for your body ensures your hands aren't slippery when you get in the water! Also, rubbing sunscreen on your friends hairy back is never fun.
Surf leashes: Yes to multiple leashes. You don't want your leash to break and force you to safety surf for the remainder of the trip. Swimming in after falling every time is exhausting and will also hinder your wave count! Anticipate it will happen and bring extra strings, you might even make a fellow surfer's day and help them out.
Additional items:
Surf wax: Pack wax for either warm water or cold water
Extra surf fins: You don't want to be stranded if a fin snaps off!
UV cure resin: For ding repair
Duct tape: Serves as handy waterproof first aid hack and also board ding repair
First aid kit: Hopefully you won't need it, but someone else might. A solid first aid kit is always good to have.
Travel hammock: A perfect way to relax after surfing
Wax comb fin key combo: Two essential tools brilliantly combined
With these items on hand, you will be totally prepped for an epic surf trip. If you are finding yourself enduring long layovers, a pro tip is to head to the airline lounges. For a small fee, you can shower, grab a drink and fuel up on good food which will help you battle fatigue and jet lag. If you have any additional questions on what to pack for a specific destination, come down to the shop. Many of our employees take surf trips and can help you fine tune your packing list. Safe travels!