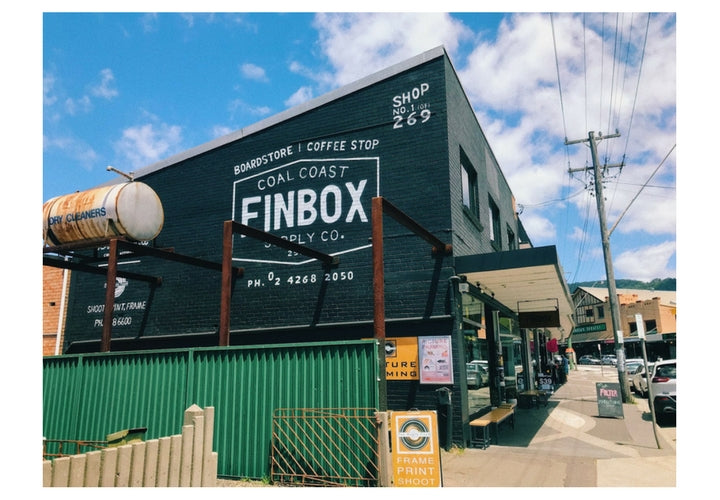 I was worried I wouldn't be able to find the shop... It wasn't a problem.
While I'm away from home, I unfortunately can't just pop in to Hansen's to pick up all my surf gear needs, but luckily, Australia has no shortage of surf shops. As I travel up the East Coast, I've been stopping to check out some of the local stores, and I must say, there are some pretty neat spots over here. I caught up with Chris, the owner of Thirroul's very own Finbox Supply Co., and we had a chat about his shop!
Nestled underneath a magnificent green escarpment and just south of Royal National Park lie a series of little coastal villages in the northern part of the Illawarra Region of Australia. One of these small towns is Thirroul, which has become a hotspot for cute restaurants and storefronts. On Thirroul's main road, you can find locals and visitors alike sipping flat whites out front of Finbox Supply Co., a surf shop and cafe with a unique and tasteful flair.

I'll have one of everything, please.
I spent the last week down south near Wollongong, the main city in the Illawarra, scoping out all the seaside suburbs and finding fun waves. I stopped by Finbox on my way out of town, and was absolutely blown away by the sheer stylishness of the store. From just the shop's logo and signage out front, to the setup of the displays and the cafe, the attention to detail that has gone into this shop is just fantastic. As I browsed through the selection of gorgeous twin fins and logs, hip clothing, and surf accessories while the familiar sounds of classic instrumental surf rock graced my ears, I felt very much at home.
This doggo guarding the boards says "woof," to Roscoe
Every product sold in Finbox has clearly been selected with care, and shop owner Chris explained that when opening the store in 2010, his goal was to stock smaller brands that may not have had a chance in big chain surf shops where the few major corporate surf brands reign king. While some of these brands, such as Rhythm and Captain Fin Co., which Hansen's has carried during certain seasons, are gaining momentum with the mainstream, there is something to be said about independent surf shops supporting independent surf labels. After all, the foundation of the surf retail market was all about small mom-and-pop shops, such as a certain 'Family Run Since 1961,' store that we all know and love ( hint: I'm referring to Hansen's ).
Can't go wrong with quality surf goods.
The extra fun part about Finbox is the cafe that is adjacent to the surf shop, which opened in 2014. With tasty pastries and coffee, it is the perfect place to grab a post-surf snack, and have a nice chat with friends. Although there are a fair few surf / coffee shops in California, Finbox has a very unique feel to it, with awesome wall art, clean lines, and good vibes from the baristas. Also, upstairs from the cafe and shop is Black Gold, a creative agency started by two of Chris' good friends, named in homage to the region's historical and famous coal mining industry. Inside Black Gold, there's a record store, and over the past two years, the space has hosted local bands and curated several art shows.
A sneak peak into the cafe with the reflection of the escarpment behind me.
There are many words one could use to describe Finbox Supply, but "cool" really just does the trick. The friendly small town feeling combined with an excellent selection of on-trend (or ahead of the trend) surf and fashion products creates a perfect medley of new school and old school. Since I've arrived in Australia, I've had a handful of friends tell me about the shop, and I am so glad I was able to stop by and see it for myself. Thanks to Chris for taking the time to share a little bit of the Finbox story with me!
Written by: Stephanie Schechter