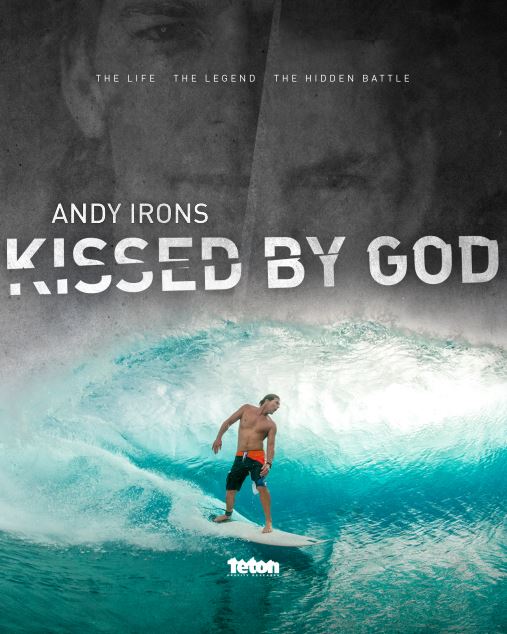 In today's world of alcohol and drug addiction, mental health disorders are more prevalent than what is publicly let on. It is taboo and often avoided in conversation. It is often masked by things like social media, fame, smiles and good times. Andy Irons was a legend to say the least. Commonly known as the "People's Champion", his presence in the surfing community was incredible and unlike any other surfer in the industry. He radiated passion for the sport and being out in the water, in addition to being a loving father and cherished brother and best friend. He had it all, right? Wrong. In Andy Irons case, the three world titles and countless sponsorship's, the beautiful wife and children, this perceived fulfilling life cast a shadow on the much darker battles he was facing day to day. The documentary "Kissed By God" tells the real story of Andy Irons, from start to finish. This film is a compilation of interviews and stories told by Andy's closest family and friends. They each share intimate tales that paint a very raw and often disturbing picture of what his life was like behind closed doors. It was this group of people that chose to bring his story to light.

This documentary chronologically plays out Andy's life from his early elementary days to the surfing career that brought him three world titles. Directors Steve and Todd Jones of Teton Gravity carefully paint the real story of Andy Irons. The film tackles his early struggles with learning disabilities as a child, and moves on to the raw and heartbreaking battle with an opioid addiction and mental health disorder; that eventually contributed to his tragic passing. Often suffering from paranoia and sickness from his drug use, Irons wasn't always a ray of sunshine to be around. But when it came time to be out in the water, surfing always won.

While his inner circle of friends and family knew about the struggles he was facing, it remained a secret to the masses. Until now. The film reveals the inconvenient truth about drug and alcohol addiction, specifically in the surf industry. It is a very real thing that is seemingly looked over or not taken seriously. While I know this to be true, I constantly ask myself why not? Why is this so hard to talk about or avoided by so many? It is interesting though, while this film portrayed Andy Irons life with a very high dose of raw honesty, it never really tackled the why behind the surfing industry hiding his battles for so long. Why so many went along with this code of radio silence about the struggles Andy was dealing with. Why now? Could this have maybe enabled his addiction in a way? Maybe if we don't talk about it, it will be forgotten or go away? Just thinking out loud here.

"Kissed By God" revealed a lot about Andy Irons, sharing his life beyond the water and the world titles. It uncovered everything that made Andy Irons the man he was. This is not a surf film by any stretch of the word. It is a very heavy dose of reality and to be honest, you will probably shed a few tears (yes, even you). You will walk out of this film feeling different then when you walked in, that's for sure. You may not have been a fan of Andy Irons before, or maybe you were and you wanted to hear the real untold story. Either way, the transparency and intimacy of this film are unparalleled to any other surf documentary I've ever seen. It is one film you do not want to miss out on.
Words By Paulina Svenson
The film will be playing at La Paloma Theater in Encinitas starting today Friday June 22nd-Tuesday June 26th with 2x showings per day. Get your tickets here before they sell out: 
https://www.tetongravity.com/films/andy-irons-kissed-by-god/tour