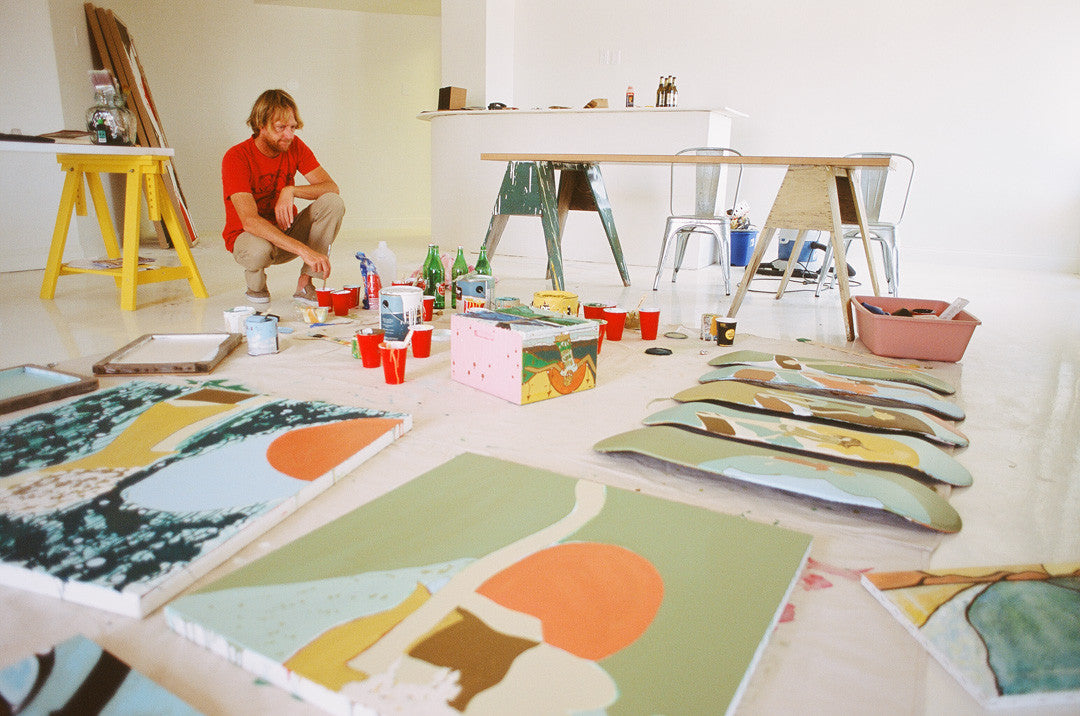 Andy Davis might be the definition of cruisey, from his brush strokes to the way he lives his life, Davis seems to be in a perpetual flow of good vibes and inspired stoke. The surfer and artist has gained recognition for his astounding work that seems to provoke a visceral feeling of connecting with the energy of a wave. In fact he might be able to replicate the sensation of the glide better than anyone else, for Davis's paintings seem to both be alive and caught in the perfect moment, at the exact same time.
Growing up between Orange County and North County, San Diego, Davis was influenced by the surfers and scene around him from Thomas Campbell to Joel Tudor, Andy has found his rhythm amongst some of today's most prolific alternative surf scene ambassadors. We caught up with the North County based artists to talk about his first time surfing, making it as an artist and what projects are on the horizon.
Did you grow up in North County?
My parents split up when I was around 10 yrs old, so I spent my time between Orange County and north county. I went to high school at Dana Hills, in Dana Point. I graduated in 88. In 1990 I moved to Encinitas. I have lived between Cardiff and Leucadia since then.
How did growing up here influence your creativity?
I lived inland until high school so I was mostly doing normal kid activities in the 70's and 80's. Riding bikes, playing soccer, baseball and basketball, just being a little rascal really. Arcades were fun back then too. Pinball, air hockey, all that jazz. I did go to the beach, but mostly in the summers. Laguna in the O.C. and La Jolla shores or Del Mar in this neck of the woods. I was mostly boogie boarding and bodysurfing
Were your parents supportive of your art?
My parents were always supportive of the youthful creative process. My mom is an artist, so we always had supplies around. It was part of my daily routine.
What was your first interaction with surfing like?
My first interaction with surfing, that I can remember was picking up a Surfer Magazine at the grocery store when I was maybe 8. I remember seeing pictures of crazy waves, exotic places and Gerry Lopez cruzing on beautiful lightening bolts. I was mesmerized and a whole new world opened up for me.
Were you hooked right away?
I was captivated but I didn't live at the beach and this was long before videos, so I just got lost in the images. I would daydream and imagine what it would be like to live life like that.  
Who were some of the guys growing up that you looked up to?
The first people I was really drawn to from the magazines were Lopez, Bertlemann, Rabbit, Mr Cheyne Horan. They eventually took the place of my basketball, soccer, baseball and football heroes.
It feels as if your art is pretty reflective of the modern alternative surf revival, were you always interested in non-traditional forms of surfing?
When I first actually started surfing (besides standing on my Morey boogie) I was 12 and in the 8th grade. That was in 1982. I got my first board at 13, which was a Randy Lewis quad. I think it was 5'11. At that time the thruster was happening in full swing, so that's what was next and that's all I rode for the next 10 yrs. Fast forward to 1996 and I borrowed a twin fin from Brad Gerlach, and I really haven't gone back to thrusters since. I was really excited about trying different things and drawing different lines.
What is it about riding different types of surfboards that you find inspiring?
What I loved about riding different boards was that it was such a new experience for me. It was like starting all over again but you knew all the fundamentals. It's like that saying if I knew then what I know now (sort of, ha). I really wanted to be able to ride all kinds of boards well. I felt it made me much more well rounded and more experienced. Plus I was having way more fun.
Was there a specific point in your life when you realized that you could have a viable career making art?
I'm not sure of a exact or specific moment or time that I knew I would make art a career. I just knew that it was where I was the happiest and most comfortable, so I really wanted to do this for a living.
What are some of the projects or moments within your personal art that you are most proud of?
Some of the personal projects as far as art goes would be doing the children's book with my friend Andrew Kidman called Way of the Bird. That was such a fun project to work on. Traveling with friends to other countries to do art shows was always fun too. I feel so fortunate to have had so many wonderful experiences and opportunities.
Do you have any projects or shows planned for the rest of 2016?
Lately I have been working on different commissions for a few different collectors. I'm also doing some designing for a couple of new hotel projects. I am going to have a show in Laguna at Artist Republic in July. A few secret projects that are very hush hush are coming down the line too. So I'm pretty stoked!