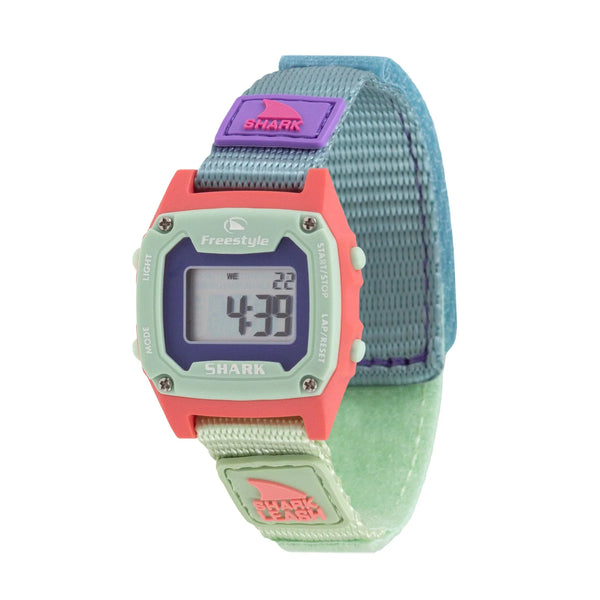 Freestyle Watch Shark Leash Mini Coral Bay
$ 65.00
Product Details
UPC : FS101204
Manufacturer : Freestyle
Bring a tropical getaway to your wrist with the Shark Watch Mini Coral Bay. Neon pops of color splash against soft coral and seafoam hues, capturing the exotic vibrance of a tropical reef. Escape to tropical shores wherever you may be!

Get stoked on our breezy new collection of digital watches - "Soft Chaos". This collection was inspired by strolls on the beach when the soft, salty hues of the sky and sand perfectly complement the energetic chaos of the crashing waves. Pops of neon add striking contrast, like the vivid moments when sunlight catches the cresting surf. Slip on one of these watches when you want to channel laidback coastal vibes, even if you're far from the tide.

Ride the tide with the legendary Leash strap that ignited Freestyle Watches' legacy in the '80s! The Shark Mini Leash features a hook and loop closure reminiscent of vintage surfboard leashes. Packed with essential digital functions such as time, date, stopwatch, countdown timer, alarm, and a night vision backlight, this watch is your trusty companion for underwater adventures. With a water resistance of up to 100 meters and safeguarded by our limited lifetime warranty, it's high time to plunge into the depths of excitement with Freestyle!
FEATURES: 
30mm Case Width
Small Wrist Fit
Nylon Band
Velcro Band
Velcro Leash
100M Water Resistance
Hydro Pushers
Night Vision
Backlight
Alarm(s)
Date
Military Time
Stopwatch
Countdown Timer
Dual Time