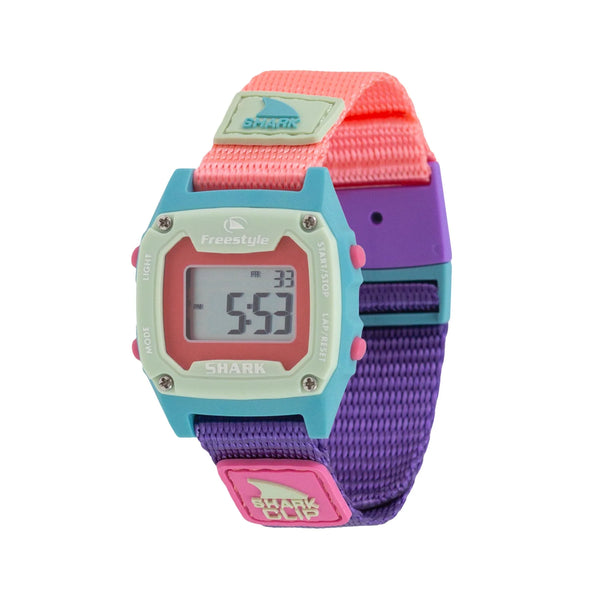 Freestyle Watch Shark Clip Mini Seascape
$ 65.00
Product Details
UPC : FS101205
Manufacturer : Freestyle
Inspired by the vibrant hues beneath the waves, Shark Watch Mini Seascape features aquatic hues reminiscent of the ocean's depth. Carry a touch of coastal tranquility on your wrist with this new Mini digital watch from Freestyle.

Get stoked on our breezy new collection of digital watches - "Soft Chaos". This collection was inspired by strolls on the beach when the soft, salty hues of the sky and sand perfectly complement the energetic chaos of the crashing waves. Pops of neon add striking contrast, like the vivid moments when sunlight catches the cresting surf. Slip on one of these watches when you want to channel laidback coastal vibes, even if you're far from the tide.

Shark Mini Clip proudly showcases the iconic OG clip band system that turned Freestyle into a legend. Picture it like sliding into a comfy seatbelt – a simple clip and you're snug and secure. But don't be fooled by its rad appearance; this surf watch isn't just about style – it's loaded with all the digital must-haves: time, date, stopwatch, countdown timer, alarm, and even a night vision backlight. Plus, you've got the reassurance of our reliable limited lifetime warranty. Oh, and when you're catching those waves, no worries – it's water-resistant up to 100 meters deep. Surf's up!

NEW LONGER STRAP FITS UP TO 8" WRIST.!
FEATURES:
30mm Case Width (Max Wrist Size 8in)
Small Wrist Fit
Nylon Band
Clip Band
100M Water Resistance (Surfing, Shower, Swimming)
Hydro Pushers (Push Buttons Underwater)
Night Vision
Alarm(s)
Date
Military Time
Stopwatch
Countdown Timer
Dual Time