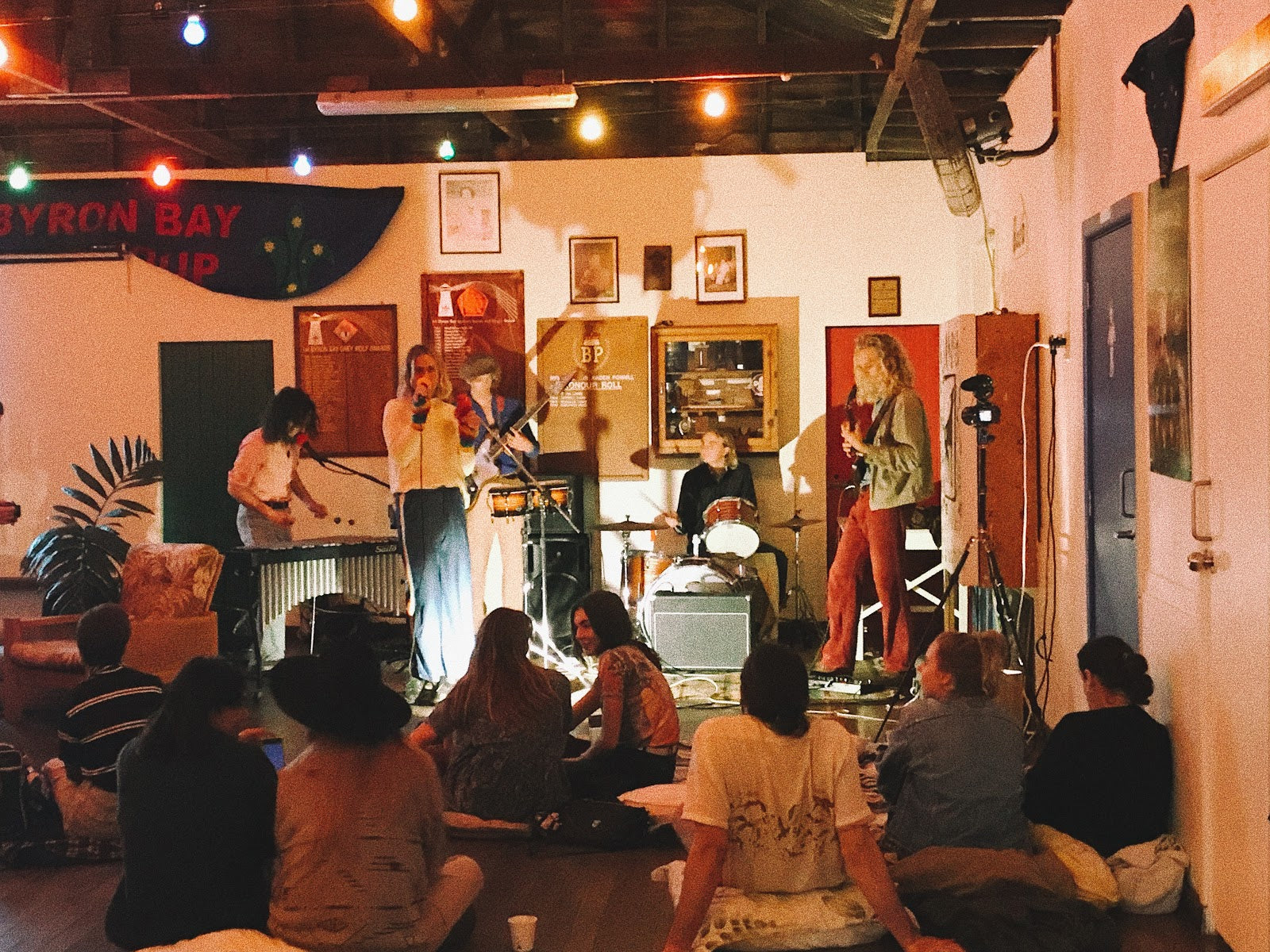 The Babe Rainbow, jamming out after performing Stefan Hunt's book, ​We're All Going to Die.
Now, before you exit your browsers, this isn't your everyday apocalyptic, run-of-the-mill doomsday blog post. In fact, this article has pretty much nothing to do with the end of the world. "​We're All Going to Die​," is actually just the name of a mini-festival / book / movement founded by Australian filmmaker Stefan Hunt, who is also deeply involved with surf apparel line The Critical Slide Society (TCSS). The entire mission of We're All Going to Die isn't necessarily about death, but rather, to live life to the fullest. Hunt wants to send the world the following message; "Fear less, live more, because we're all going to die anyway, right?"
Last weekend, We're All Going to Die took over Byron Bay, with events happening all around town. The festival kicked off Thursday evening, with the ​We're All Going to Die​ book launch celebration. The whole thing was ridiculously wholesome, with adorable instructions to bring blankets, your teddy bear, and a mug for hot cocoa. We all set up on the floor of Byron's cute little scout hall, which has pennants and posters from several decades of local scout groups. The launch started with a Q&A with Stefan Hunt, followed by The Babe Rainbow musically reading the book, elementary school library style. ​The Babe Rainbow​ is a surfy-psych-pop-rock group originally from Byron Bay that now tours internationally, and they also happen to be a favorite of mine, so it was pretty special to get to see them play in such an intimate and alternative setting! The book is a rhyming picture book that is technically intended for adults, but is definitely kid-friendly, and actually would be a great way to teach young people about death without getting too morbid. It comically and cleverly discusses common fears and inhibitions, finishing with ways to overcome them, because, of course, everyone dies at some point.
Throughout the weekend there were also "conversation carriages," on Byron's solar powered train, that just goes from town to the industrial estate only a couple miles away. The train cars had cards inside with questions that passengers were meant to ask the stranger sitting nearest to them. The purpose was to encourage human interaction on public transportation, as opposed to commuters just keeping to themselves and their electronic devices. There also was a short film festival on Friday night, but unfortunately, tickets were sold out, and I didn't make it in, but I heard it was equally as inspirational as all of the weekend's other activities.
On Saturday night, there was an art show, exhibiting photographs that follow the theme of the festival, as well as custom made "tombstones", depicting various common fears, all created by an array of talented artists from around Australia. Underneath each photo was a blurb from the photographers, describing how the image involves overcoming fears, and living life to the fullest. A couple hours into the show, there was a surprise dance performance sharing the storyline of dancing like no-one is watching, and as the dancers pulled audience members on their feet, the whole show transformed into one giant dance party. There were conga lines, human limbo sticks, and full-on dance battles. The upbeat music and nonstop smiling emphasized the event's true meaning, as death was certainly the furthest thing from anyone's mind.
The underlying foundation of the movement is Stefan Hunt's battle with anxiety as a young adult. Much like millions of other individuals, he woke up one day realizing that his life wouldn't be fun and games forever, and panicked at the thought of creating the "ideal" future for himself. He turned to writing and art to explore his feelings, and through his creative expression, he accepted the fact that we're all going to cark it one day, so there's no need to constantly stress about trying to make a picture-perfect life. This message resonates strongly with me, as I see myself and many of my friends feel pressured to pursue comfortable, uninspiring careers, or to play it safe with big life decisions. I'm naturally an extremely cautious, anxiety-ridden person, and I always like to know what will be happening next, so moving across the world with pretty much no plans has definitely been the most reckless act I've ever committed. Of course, it all worked out fine, and this whole experience has taught me that I can't control everything in my life, and to try and let go a little more, because hey, we're all going to die one day.