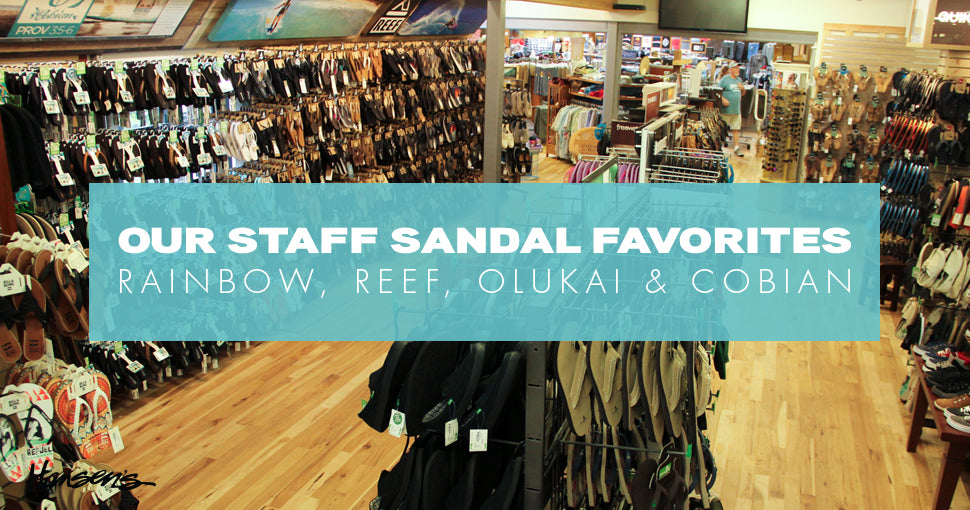 Here in San Diego, we are lucky enough to be able to wear sandals nearly all year round. With so many different sandal companies and sandal types, it can be difficult to know which sandals are right for you. We take our footwear very seriously and only choose companies who make the most durable, comfortable and stylish sandals.
Rainbow
This iconic Southern California sandal company has been making classic handmade leather flip flops for men and women since 1974. A staple for most locals, Rainbow sandals vary in the darkness of the leather, sole thickness and strap width. They might take a bit of time to wear in, but they are well worth the wait. We recommend having a separate pair for the beach - they can handle some water and sand but it does take some time for them to dry out.
Reputation: Classic Southern California, long-lasting leather flip flops
Perfect for: Everyday walking to last years
Staff Recommendations:
Why?  It's the most durable sandal we carry.  They take some time to break in but they get better with time.  As the leather breaks in they will mold to your feet and give you great arch support.  
Why?  Durability meets fashion. They get better with time and mold to your feet.
Reef
A behemoth in the surf apparel industry, Reef makes surf-friendly sandals, shoes and clothing for men, women and children. We stock a wide variety of Reef sandals to outfit your whole family - Hansen's is your one-stop Reef shop. Our men's Reef sandals can outfit you for almost any situation from sand to land. Reef makes their sandals from many different materials and several designs including rubber flip flops, leather flip flops, slides and slippers. Our women's Reef sandals are similarly varied with flip flops made from everything from rubber to vegan leather, with several stylish strap configurations. Reef makes adorable kids sandals as well, with many different styles to choose from.
Reputation: A huge selection of sandals made from many materials, several price points, and trendy designs to outfit men, women, and kids.
Perfect for: Sandals for vacations, casual walking or beach time
Staff Recommendations:
Why?  As soft a footbed as you will find, they have great quality and clean basic look at a good price.
Why? Super sporty for after the beach or to heading to a casual dinner.  Great for the water, with arch support and immediately comfortable/wearable.
Olukai
Hawaiian-inspired footwear, Olukai sandals are made for watermen and women. Using high-quality leather and rubber paired with thoughtful construction, Olukai sandals will last for many years to come. Olukai's classic designs include slides and flip flops and the women's designs include several strap configurations.
Reputation: High-quality, long-lasting sandals
Perfect for: Those who are looking for a more formal or durable sandal
Staff Recommendations:
Why? These have the best arch support and footbed of any sandal brand we carry.  They are super premium and great for the water.
Why? Premium sandals with excellent arch support and style, unmatched by any other brand.  
Cobian
For over 20 years, Cobian has been making comfortable, high-quality sandals. Dedicated to giving back to the community and environment, Cobian partners with several non-profits including the Friends of Bethany Hamilton Foundation, Surfers Not Street Children and Wild Oceans. Cobian uses rubber, synthetics and leather in men's and women's sandals in a variety of styles to suit almost any occasion.
Reputation: Wide selection of comfortable, in-trend sandals
Perfect for: Beach sandals or comfortable walking sandals
Staff Recommendations:
Why? They are super comfortable right out of the gate, have lots of cushion with arch support and great value.
Why? From the Bethany Hamilton collection, a portion of profits go to the Friends of Bethany Hamilton Foundation, and the sandals have cute style & comfort at a great price.