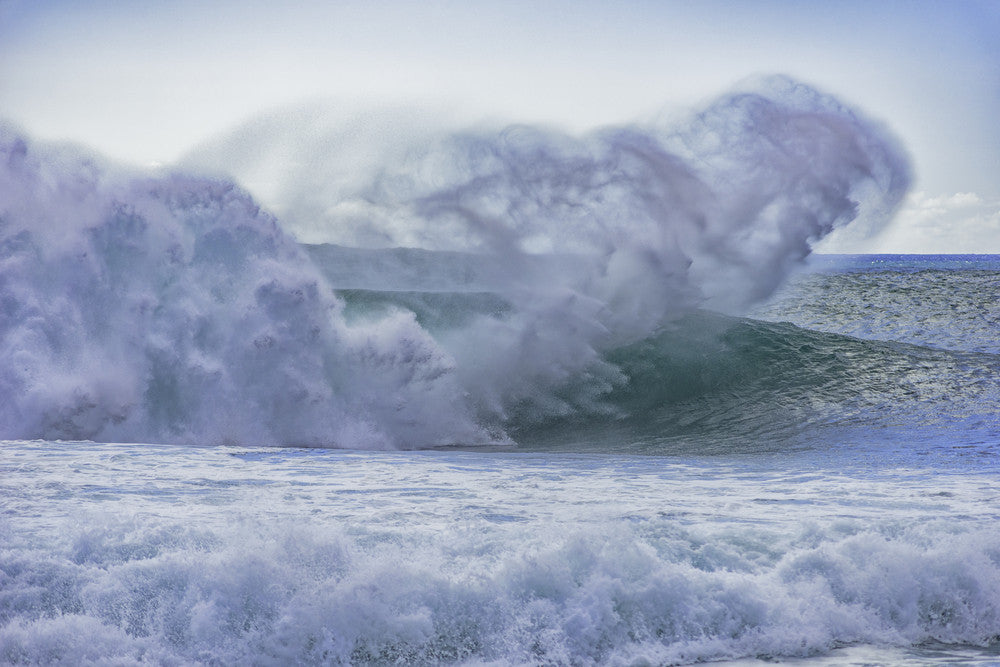 The south swells of summer are tapering off and the Northern Hemisphere is finally starting to light up! Big purple blobs of swell can be seen on the forecast charts as Arctic storms send enormous amounts of energy southward. We've all felt those butterflies in our stomach when the report is calling for waves well out of our comfort zone, and you know your friends will never let you forget it if you chicken out. For some of us, holding down the local points and beachbreaks is enough, but for those looking to take their adrenaline and surfing skills to the next level this winter, the famed pilgrimage to Oahu's North Shore naturally comes to mind. Whether this winter marks your first voyage to the 7 Mile Miracle or you're an experienced shredder revisiting the proving grounds, Hansen's has compiled a list of essentials that no surfer should leave without stuffing in their already overweight boardbag.
1. GoPro Hero5 Black
Clips or it didn't happen! None of your friends want to hear you talk about how you got the best barrel of your life at Pipe or did a backflip off the rock at Waimea….they want to see it! So why not capture it with the brand new Hero5 Black? The latest edition to the GoPro camera family is "Simply the best GoPro, ever" and will nail the highlights of your trip. With a simple one button control system and waterproof up to 10M, the Hero5 Black is capable of capturing your 12 foot bomb at Backdoor in super crisp 4k resolution at 30FPS, or 1080P resolution at 120FPS for those super slow motion Instagram clips. Check out the camera and fun accessories HERE.
2. Sun Bum Sunscreen Spray SPF 70+
Be honest with yourself, you're not as tan as you were in the middle of summer. That fair skin has been covered up by a wetsuit for a few months now, and the intensity of the sun's rays on the North Shore is no joke. Don't be that guy or gal who shows up to dinner after the first full day of surfing brighter than a lobster. Not only is it unsafe to get sunburned, it's also a good way to ruin your trip. This Sun Bum Sunscreen is ideal for surfers because it sprays on, meaning you won't make your hands all slippery rubbing it in! Additionally, with an SPF of 70+, it's sure to keep you protected from skin cancer-causing UV rays.
3. O'Neill Men's Rashguard Basic Skins SS Rash Tee and O'Neill Women's Rashguard Skins SS Rash Tee
If you've never surfed in just board shorts or a bikini before, believe us, it takes some getting used to. While the ability to move freely is maximized, your body can suffer dearly in the form of a chest and stomach rash. The sticky wax that holds your feet to the board can wreak havoc on sensitive skin areas, making paddling for waves more painful than enjoyable. For this reason, we recommend throwing an O'Neill Rashguard into your board bag. Along with protecting you from the intense North Shore sun, a rashguard will save you from unwanted rashes that are bound to occur without the cushion of a wetsuit. There's nothing worse than scratching for a wave and pulling back because the pain to too much to bear.
4. Nixon Audio Blaster
What's a trip without good tunes blasting?! Whether you're starting the morning with some mellow reggae vibes or amping up to go surf over-head Rockies, the Nixon Audio Blaster is a must have. With over 12 hours of battery life, this sound system is ready for you to connect wirelessly via bluetooth and is outfitted with a shockproof, "Ultra Rugged" rubber cover designed to resist sand and water. To top it off, there's a full range of color options to fit every style!
5. Billabong Men's Boardshorts Tribong X Havana
Showing up to the North Shore with the proper oceanwear is just as important as showing up with the proper surfboards. Having the right equipment for the job is critical, and that absolutely includes board shorts and bikinis. For the guys, having a quality pair of technical boardshorts can be a lifesaver. The Billabong Tribong X Havana trunks feature a 19in outseam, meaning they won't catch on your knee when you stand up, as well as a 4-way stretch fabric that allows for a free and lightweight feeling. Billabong has also incorporated their Performance Fit technology, which minimizes the use of seams, keeping those precious jewels chafe-free.
Rip Curl Women's Untamed One Piece
For the ladies, avoiding wardrobe malfunctions when you jump in the water for a surf or swim is a top priority. However, because for some sacrificing style is simply not an option, the Rip Curl Women's Untamed One Piece is the perfect balance of fashion and functionality. Made from 100% microfiber, the cheeky high cut fit coupled with attractive mesh inserts on the back is sure to be a head turner for all the right reasons.
6. Headhunter Rashguard Anti-Rash Gel
Whether or not you believe us about the importance of rashguards or quality boardshorts/bikinis, the Headhunter Rashguard Anti-Rash Gel is a staple for North Shore endeavors. The skin on skin rash that will occur under your armpits from paddling can threaten to cut those marathon sessions short, but the Anti-Rash Gel will significantly minimize chafing after it starts. In addition, if any of you guys do suffer from chafing in those southern regions, you'll be thankful you packed this product. Special Note: Your chest will more than likely get rashed from your wax and your knees will probably get torn up from your traction pad. DO NOT apply the Anti-Rash Gel to these areas or you will be slipping on every wave you catch. You're welcome.
7. Hansen's Beach Towel
A solid beach towel is an absolute necessity for the North Shore. Not only will it provide great padding for your boards during the treacherous flight over, but it's perfect for laying out on when the waves go flat. This 30" x 60" towel also comes in a variety of colors, perfect for the guys and girls.
Whether this is your first time planning a trip over to the rock, or you're a tried and true veteran, Hansen's Surf Shop in Encinitas has all the essentials you need. With big waves and shallow reefs, Oahu's North Shore can be an unforgiving place, but going prepared with the right equipment could mean the difference between getting the barrel of your life or sitting it out on the beach.