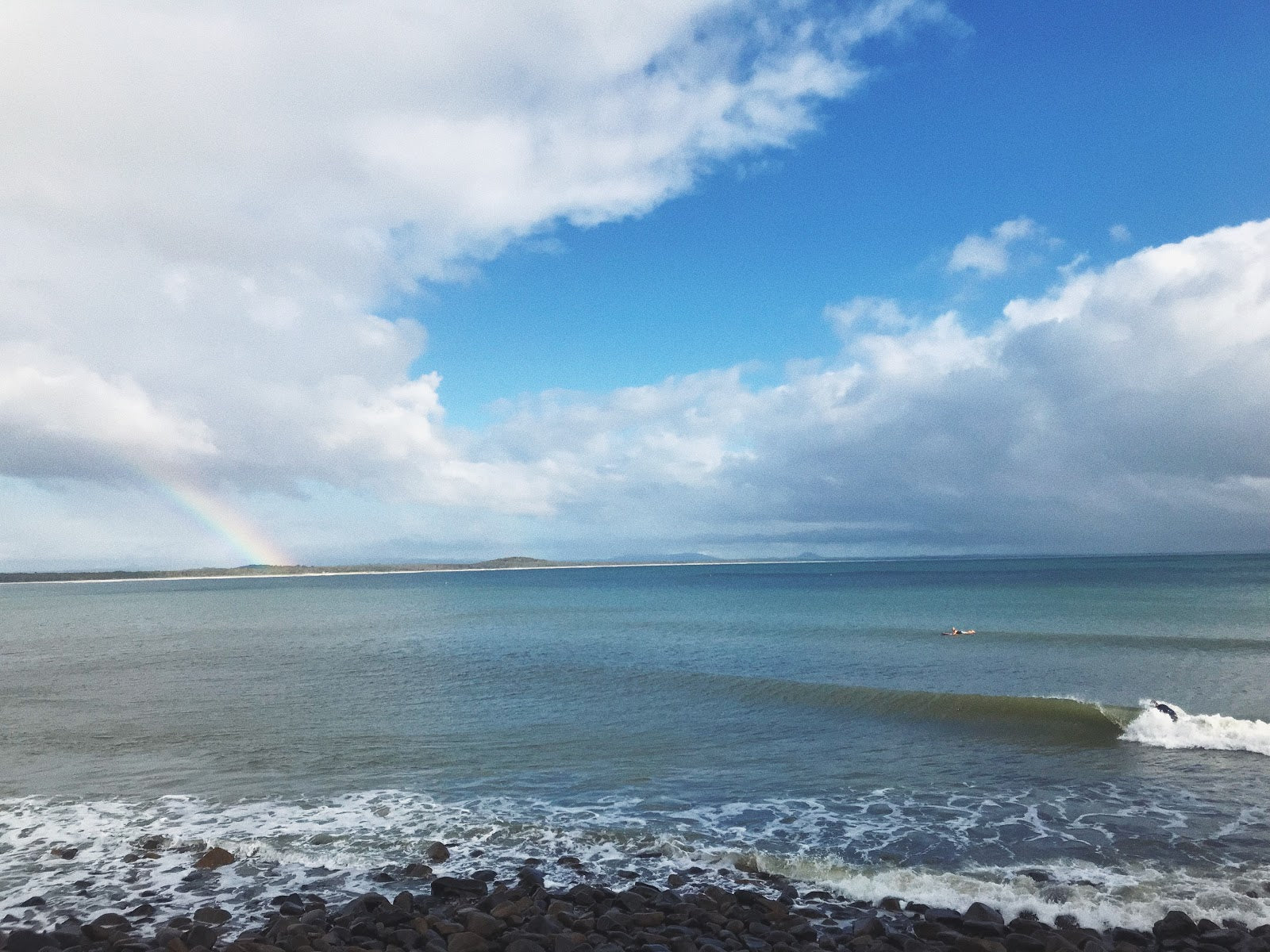 Perfect peelers and a rainbow in the background... what more can you ask for?
This week, I'm up in Queensland for the 2018 Noosa Festival of Surfing. This is a festival I have always wanted to attend, so it is a childhood dream come true to be here this year! Growing up, I was always very involved with school, and wasn't really able to miss over a week to fly to Australia, so I was super jealous of my surf peers who came over and had the times of their lives! Now that I'm living only a few hours away from Noosa, driving up for the week was no problemo, especially with my handy dandy camper van! I arrived last Friday, the day before the festival's official kick-off. As soon as I drove into town, a weird sense of familiarity hit me, and I sort of drove on autopilot into the national park, somehow knowing what road to follow (it does help that the town is tiny and there are only a couple ways to go). I passed by the contest scaffolding, and First Point looked pretty flat, so I kept going through the park, eventually making it to a parking lot that I quickly realized was adjacent to the surf spot Nationals. I ran into a couple friends right away, and found a parking space much faster than expected, so I changed into my swimsuit and ran to the shore... only to be greeted by the world's most slippery rocks!
My little home on wheels does the trick!
Stumbling across the boulders and into the green waters, I paddled out and looked around, in awe of the giant eucalyptus trees carpeting the rolling hills. The waves were a bit tricky to figure out at first, with every section sort of threatening to close out, but then miraculously clearing up and transforming into a noseride section from the gods. After that first surf I went over the brand new Thomas Surfboards factory - essentially a compound - for a party / art show / live music gig / giant reunion. I walked alone into the gates and immediately saw over 20 people I recognized, and I became very overwhelmed with the situation. All of my worlds had collided. There were surfers from Encinitas and the rest of California, international surfers I know from competing all these years, surfers I see every day in Byron Bay, and surfers I hadn't seen in years from Noosa! I even caught up with a couple friends from UCSB! I spent the whole night saying hi to my various friends and acquaintances, and was absolutely exhausted by the end of it, driving back to the national park to sneakily camp out for the night, parked alongside fellow festival-goers and frothers.
Looks like a doggone interference!!!
The next day was a surf-filled dream, and I went down to the contest area in the afternoon to watch a very exciting event - the Australian Dog Surfing Championships! The whole day, I was telling my friends that this was not to be missed, and apparently, I wasn't alone in that sentiment. The crowd on the beach rivaled that of the US Open of Surfing (and let me tell you, there have never been that many people on the beach for any heats I've ever surfed). This led me to the not-so-shocking conclusion that, yes, the world is obsessed with dogs, myself included! It was amazing (and a little unnerving) to watch a guy on a hydrofoil SUP fly his dog down the line! The pup appeared to be having a great time, and it sure was a hoot to watch. There was also a father-daughter-dog trio that got the crowd cheering, with the dad switching off lifting the girl and the dog!
The rumors are true.... They DID make jerseys in sizes other than XXXXL for this event!
Sunday existed of yet another marathon surf day, followed by a wild night out consisting of ice cream and ping pong with a couple friends from Byron. Monday rolled around and it was time for me to surf my first heat in the Lady Logger Pro. Unfortunately, the waves were not quite cooperating, and in a 20 minute heat of six women, there were only about four set waves to be had. I was not able to catch one of these set waves, and sadly did not advance into the quarter finals. Luckily, I had the Women's Open division the next day, and with some epic swell on the horizon, I was hoping to have some fun! I had a warm-up surf at tea tree and could feel the swell filling in, and by late afternoon, we were seeing some shoulder high sets consistently hitting First Point! I paddled out for my heat and decided to just make the most of the swell (and my entry fee), and try to get as close as I could to that 10 wave limit. Wave selection wasn't really an issue anyways, as every wave was practically perfect! I relaxed, had a great time, and made it through the heat! I surf again Thursday morning, so I'm really hoping the swell sticks around. Fingers (and toes) crossed!