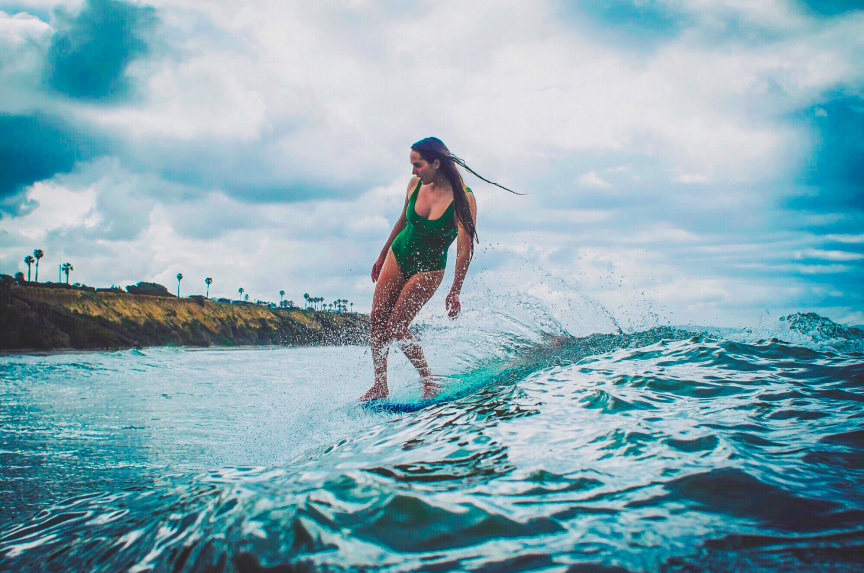 That's me at Pipes a few months ago. Photo by Chris Grant
Hi there! My name is Stephanie Schechter, and I am a 21-year-old surfer and team rider for Hansens! For the past four years, I was living up the coast, attending college at the University of California, Santa Barbara. I just graduated a week ago, and now I'm back at home in Cardiff By The Sea, taking a little staycation before setting out for some world travels.
I actually grew up in the Del Mar area, but if the phrase, "home is where the heart is," rings true, my hometown has always been Encinitas. I spent most of my childhood and teendom surfing Cardiff, Pipes, and Swamis, and all of my friends lived in the area. Luckily, my mom recently moved to Cardiff, so now I don't have to lie about being a local!
Living in Santa Barbara was amazing, and my college experience was second to none, but coming back to San Diego has always been a treat for me… especially because the surf is much more consistent down here! Earlier this year, as I started figuring out what exactly I wanted to do after graduating, I considered all of the pros and cons of:
A) finding a job right away and getting my own place, somewhere in the world
B) taking time off to travel, leaving straight after graduation
C) going home for a couple of months, then either getting a job or traveling.
As I thought about all of the places I could live in coastal California - because lets be real, surfing ruins your life, and you can never move away from the coast – I realized that Dorothy was right, there really is no place like home. So, I chose option C. Although I have always been motivated to get a "real job" and start working (I know, I'm weird), almost every person I talked to recommended that this is the best time in my life to travel. I have no commitments, no obligations, and because school has always been my priority, I haven't had the chance to try out the whole 'nomadic-surfer' thing.
I've got some big travel plans to share with you, so stay tuned for my posts in the upcoming weeks, but right now, I want to take some time to appreciate this beautiful surf town that many of us call home. Below are a few of my favorite things about Encinitas, land of surfers, yogis, dog-lovers, and maybe, just maybe, the world's highest concentration of breakfast places.
The Beaches
Of course, the beaches are number one on this list. These aren't just your average stretches of sand… The beaches here are special, with some of San Diego's best surf spots, at the bottom of gorgeous (albeit crumbly) sandstone cliffs. Yeah, the millions of stairs may be exhausting, but at least we all get great calf workouts! I genuinely believe that if it weren't for the beaches here, I never would have fallen in love with surfing.
Even with the marine layer rolling in, the view from Pipes to Swami's is world class.
The People
In Encinitas, while its not uncommon to find strangers saying a friendly 'hello' or 'good morning' in passing, it's also typical for people to run into their friends, neighbors, teachers, co-workers, etc. wherever they go. I can't remember the last outing I've had in this town where I haven't seen a friend or acquaintance! Everyone here is friendly and welcoming, and there is definitely a strong sense of community. We are a town that prides ourselves on our love for the ocean and laid-back lifestyle.
The Hansen's Crew is always smiling and ready to help out.
The Dogs 
Alright, this one might just be something that stands out to a dog-obsessed person such as myself, but have you ever noticed that there are a lot (and I mean A LOT) of dogs in Encinitas? Almost every storefront has a doggie water bowl, and a ton of the shops and cafes are dog-friendly.
Hansen's shop dog Roscoe guards the inventory.
The Food
As I mentioned above, this beach town genuinely may have the most breakfast restaurants per capita in the entire world. We've got cafes, health food joints, and taco shops on every street corner that serve breakfast all day! Of course, its not quantity, but quality that matters, so don't worry - our breakkie game is pretty dang strong. I'm not going to make any claims but… try any of the breakfast burritos from Swami's cafe… they very well could be the best in the world.
Our next door neighbors at Swami's Café cook up some seriously delicious food.

Hansen's!
I'm definitely a little biased, but Hansen's – in addition to being an amazing surf shop with everything you could ever possibly need for the beach – is the epitome of the Encinitas spirit. The shop is family run since 1961, filled with friendly faces, and of course – dog friendly. Every Hansen's customer, be it a lifelong local, or a tourist from across the globe, is treated like a family member, which is a common theme in stores around Encinitas.
The shop is warm and inviting, with timeless coastal style.
With its rich surf history and friendly citizens, Encinitas is a classic California beach town with a unique flair, and I feel so lucky to call it home. I look forward to sharing my stories of adventures around town and beyond each week, right here on the Hansen's Blog!