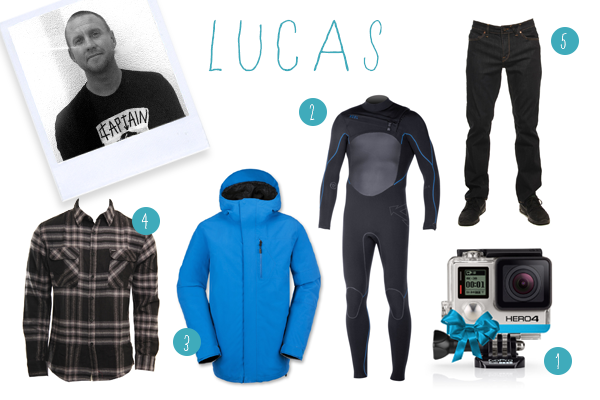 Our staff lives the lifestyle that we embrace and as the curators of cool culture we know that they are on the front lines of emerging trends and good style.
That's why we developed My Five, a new column that will highlight our staffs five favorite personal product picks. Our staff is in the field using the products they choose on a daily basis, so there is no better ambassador of the brands we work with.
For this Holiday My Five we checked in with our radical resident shop employee and surfboard buyer Lucas to find out what his go to gear for El Nino is. So stay warm, look cool, and charge hard all winter!
1. GoPro Hero 4 Silver Standard Addition
Whether you are charging heart pounding barrels at Blacks or capturing your child's first ever wave, the GoPro's Hero 4 is sure to enhance your experience. GoPro's line of POV cameras has revolutionized the way both novice and professional adventurers capture all of life's most amazing moments.
2. Xcel Mens Drylock Wetsuit 3/2
Staying warm and loose is essential when it come to having a radical session, and Xcel's Drylock wetsuits are built to perform. As a leader in the wetsuit industry Xcel has emerged as a leader in innovation and will keep any charger amped during these long runs of El Nino Swell.
3. Volcom Mens Snowboard Jacket Gore Tex Cyan
At Hansen's we love to surf, but we get just as amped to let it all hangout in fields of deep untouched powder. If you live for winter then there is no better jacket for putting it on edge and indulging in your alpine addiction. Volcom's Gore Tex men's jacket will keep you dry and stoked for a full day of action on the slopes.
4. Brixton Mens Woven Bowery Flannel
Born from the oil and grit of Southern California's lowbrow skate, surf, and hotrod scene, Brixton is classic cool to the core. For anyone looking to add a layer during his or her cold morning sessions, the Brixton's Woven Bowery Flannel is an epic choice.
5. Volcom Mens Pants Solver Denim
Solid denim is an essential part of any man's kit, and Volcom's Solver jeans are perfect for a long day at the skatepark or a night out on the town. With a classic dark denim look and rugged build, Volcom's high quality denim is a no brainer for any guy that demands the most from his favorite pair of jeans.