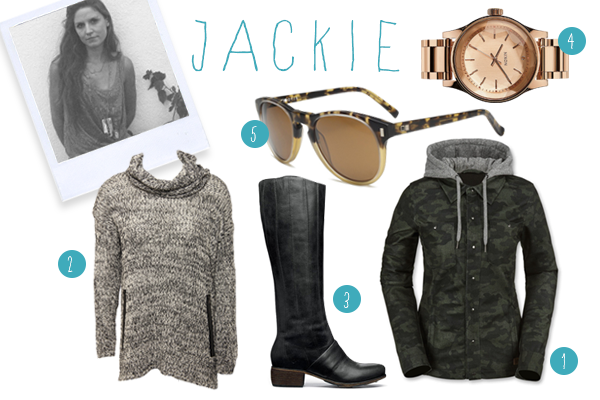 As ambassadors of good vibes and classic surf style, we know the importance of looking good. Whether you are enjoying a night out on the town or pulling into a deep pit it's critical to look cool.
Luckily our stylish staff is always down to share their personal choices with all of our customers, and that's why we have created My Five, a new column that will highlight our staff's five favorite personal products.
For this very Holiday My Five we checked in with our radical resident shop employee Jackie to find out what styles she is wearing this winter. Check out her picks and make sure you stay warm while looking cool this holiday season.
1. Volcom Women's Snow Jacket Circle Flannel
One awesome way to stay warm and cozy through the holiday season is by wearing Volcom's Snow jacket Circle Flannel. Volcom is a leader in winter outerwear and their cool and stylishly cut jacket will keep you warm on those early morning surf checks or while you're enjoying a après libation after a day in the mountains.
2. RVCA Women's Sweater Down Unda
One of the best parts about winter is the ability to layer your look, and this knit pullover from RVCA is an awesome addition to any winter wardrobe. Wear it alone or pair it with a cool jacket on chilly winter nights.
3. Olukai Women's Boots Kumukahi Black/Black
These no nonsense boots were made for walking, and looking fierce while doing so. Made from hand-scored full grain leather the Kumukahi is an elegant riding boot that is as comfortable as it stylish.
Nixon has been creating the coolest accessories for well over a decade, and their line of women's watches is the perfect addition to any fall or winter look. The Facet is a timeless piece that is equal parts modern style and classic elegance. From the boardroom to the ballroom, the Facet looks good no matter what the occasion.
5. Otis Sunglasses Nowhere To Run
A killer pair of shades is the perfect way to set off any outfit, and Otis's line of high quality sunglasses are a top choice for those that are fashion forward. Made with mineral glass lenses, Otis helps assure that your sunglasses will stay scratch free while riding in your purse or bag. Just because it's winter doesn't mean you won't need a pair of classically cool sunglasses to get you through those bright December days.