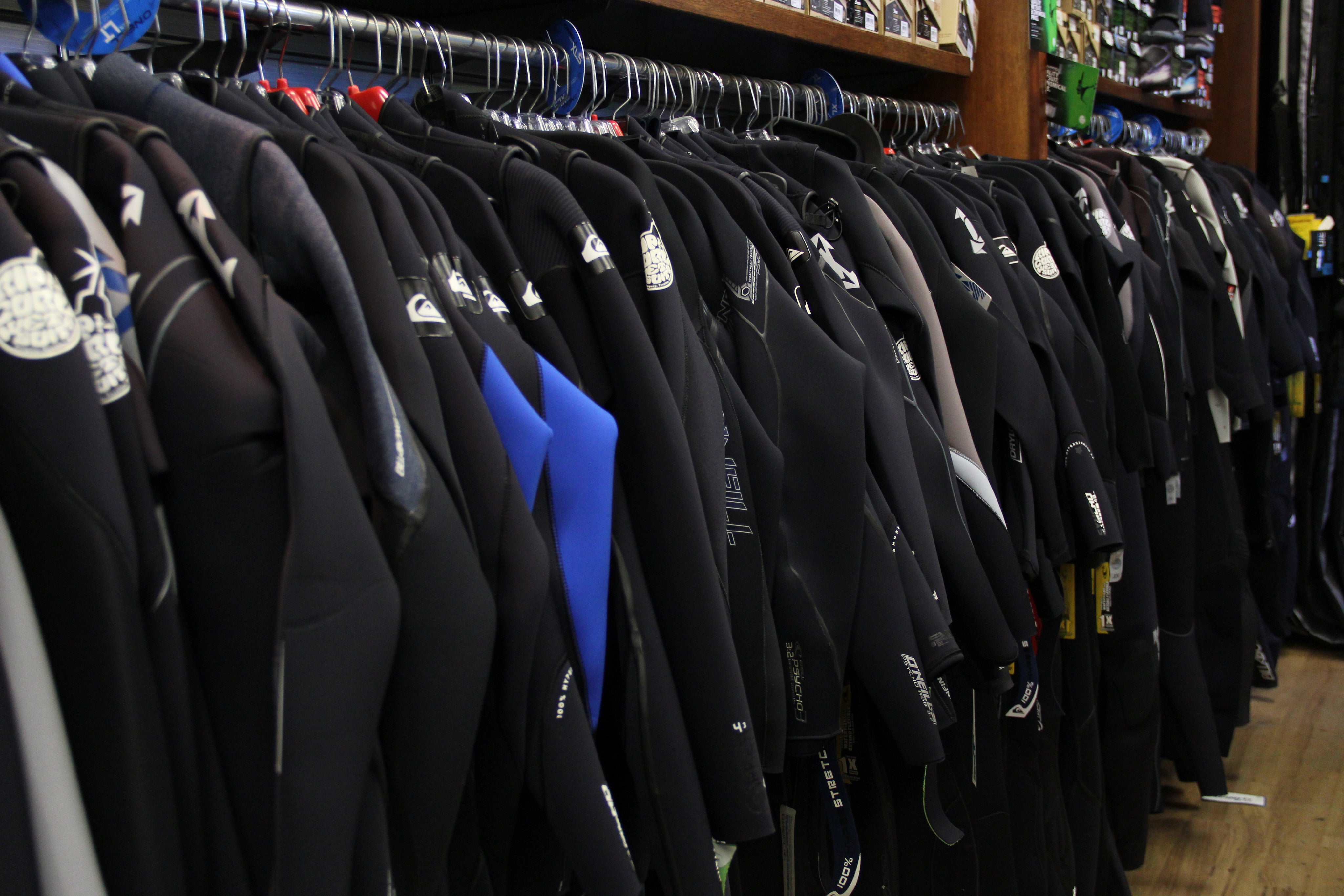 There is a lot to learn when shopping for a wetsuit, especially for your first wetsuit. When choosing a wetsuit, many of our customers want to know what the price means for the quality, durability and overall value of the suit. At Hansen's, we stock wetsuits to fit a wide range of surfing needs, and accordingly, prices vary from $100 to $500+. It's important to remember to determine what your priority is; how much warmth verses flexibility do you desire? In order for you to make an informed decision when buying a wetsuit, we have explained the differences in wetsuit pricing as broken down into four tiers, below:
Tier 1: $90-130 Basic Entry Level Suit
Features:
- Smooth neoprene on the back and chest
- Flatlock stitch (creates strong seams but creates more holes so best for wetsuits used in warm water)
- Back zips
Ideal for: Summer surfing and spring or fall depending on the water temp. Not ideal for colder water or winter as the seams are not sealed which allows cold water to constantly flow in and out of the wetsuit stealing any warm water that the user has built up
Tier 2: $145-200 Year-Round Fullsuit
Features:
- Glued and blind-stitched seams which makes the seams strong and watertight - Smooth neoprene on the chest and back
- Includes a type of lining inside the chest and back to help the body heat up the water in the suit more efficiently
- Entry level chest zips (these wetsuits are going to be priced closer to $200)
- A few companies offer a wetsuit around the $200 barrier that have an additional feature to help ensure the life of the seam. This feature can be some type of liquid fluid seam (LFS). The LFS is an additional seal on top of the already sealed, glued and blind-stitched (GBS), seam. One is not warmer than the other, however, the LFS can lengthen the life of the wetsuit by preventing unwanted pinhole leaks developing on a GBS over time.

Ideal for:
Year round surfing because the suit is sealed. In fact, this price range of suits may be a bit warmer than the $300 wetsuits as many in the $300 range are removing materials designed for warmth to add to the elasticity and make the suit lighter and more performance driven:
Best Value:
This is probably the best bang for your buck as far as wetsuits go because most wetsuits tend to last one to three seasons (depending on use) if you are surfing in them every day or pretty regularly.
Tier 3: $300 - 400 Performance Wetsuits
Features:
- Very stretchy and lightweight neoprene. This is the wetsuit for the surfer that wants to feel as little resistance and weight as possible while surfing.
- Most of the suits that are in this realm are not going to include some of the features to warm the suit, such as additional linings, in order to make the wetsuit more flexible. While smooth neoprene doesn't add heat, wind does not cut through it as it can on a standard neoprene panel. Therefore, smooth neoprene can be a bit warmer than a standard neoprene panel.
Ideal for:
Again, this is a great option for year round surfing. The 3/2 is a great option year round but probably serves its purpose best in fall, spring or late morning or mid-day surfing in winter. A 4/3 would be the better option for those looking to use this wetsuit at the crack of dawn. Not ideal for cold water surfing, as said before, the previous tier of wetsuits ($145-200) would be warmer than the $300 tier. This is due because certain features that are designed to help the user maintain their warmth are not included in these wetsuits, in order to help increase the elasticity and lessen the weight of the wetsuit.
Tier 4: $400 -500 High End Wetsuits
Features:
- Many of the suits have some type of fusion seam which eliminates the need for most of the threading on a seam. This makes the seams watertight and the wetsuit warmer overall.
- Features the softest, most pliable neoprene that a brand may offer and smooth neoprene on the chest and back.
- Many high end wetsuits will have a larger area on the inside of the suit with some type of lining/material to help the body efficiently heat up water in the suit. The area of lining will generally run from neck to knees or all the way down to the ankles.
- Note: Any time different materials are being added to a wetsuit, they take away from the overall elasticity. These suits aren't as pliable as the $300 tier but they are quite a bit warmer.
Ideal for:
Dawn patrol! It can be a great cold water suit. It might not be needed during summer months and can be a bit too warm in fall and spring given certain conditions.
In Summary:
- Do your research: Learn about the range of wetsuit pricing and know your maximum budget before you start trying on.
- Know your surf style: Wetsuits are usually made with soft neoprene which makes the lifespan between 1 and 3 years - depending on the frequency of your surfing and softness of neoprene, your wetsuit might wear out in one season. If you surf a lot, you will probably go through more wetsuits than occasional surfers. Budget accordingly!
-Sizing: Use each wetsuit manufacturer's sizing chart and place yourself as close to, or maybe a little over the weight maximum for a particular weight range. Your height can be a couple inches over or under the recommended maximum on the chart. When in between two sizes, go for a size smaller. Wetsuits are meant to be snug, and baggy wetsuits can cause chafing and drag. A baggy wetsuit will not be as warm because warm water is constantly being replaced with cold water, we call this flushing.
If you have any more questions, please come down to the store and speak to our staff. We pride ourselves in being able to help our customers buy wetsuits they will love!
You can also check out our Guide to Buying the Right Wetsuit for more information on finding and caring for your ideal wetsuit.