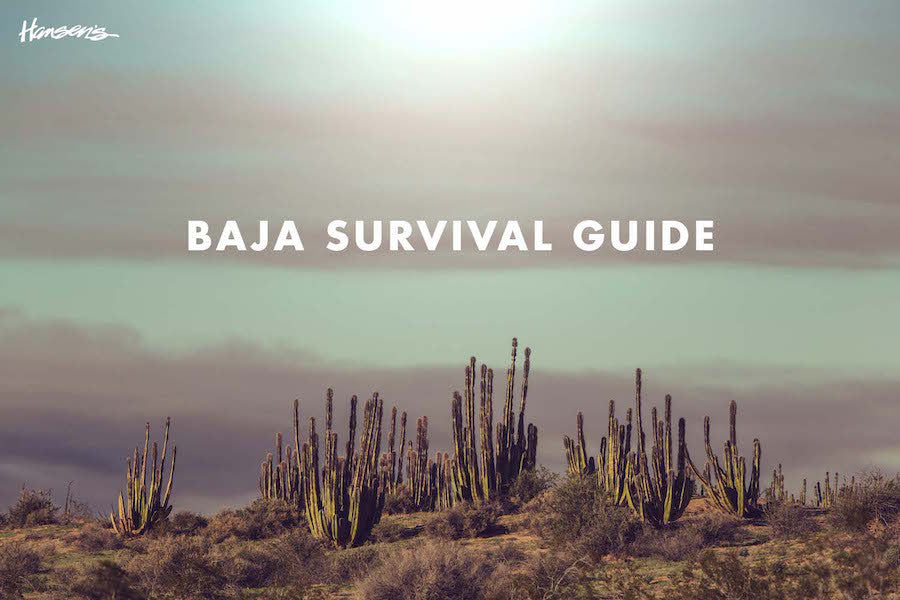 Just south of San Diego lies a land of intrigue, adventure and endless opportunity. Sure, there are rumors of it resembling the Wild West and tales of wild nights and banditos, but for the most part, it is a land of epic surf, beautiful people and ice cold cervezas.
Baja should be on every surfer's list, and many Southern Californians have been making the short trek for decades. From the hollow throaty barrels of Baja Malibu to the never ending point at Scorpion Bay, Baja has a wave and vibe for everyone.
While Baja is just a short drive from San Diego, many of the more isolated waves that offer minimal crowds and full-on exploration require a bit of planning, as surf trip essentials can be hard to come by. That's why we have created the Hansen's Baja Survival Guide, so you can score on your next trip south of the border.
Our top five essential Baja items include:
1. The Surfboard: Libtech x Lost Surfboards Short Round
While it is ideal to have a full quiver of surfboards to handle all of Baja's diverse conditions, if you have to pick up one board for your trip, our suggestion is the Libtech x Lost Surfboards Short Round. The Short Round surfboard combines paddle power, performance and incredibly strong materials into one of the best all around surfboards on the planet. Matt Biolos is one of the most respected surfboard shapers on the planet, and Libtech is a leader in the evolution of surfboard technology. Many surfers are still hesitant to try new tech, but Lib's innovative foam and construction makes these boards an ideal Mexico stick because they are hard to ding, and even if you do ding it, the closed cell tech means that you won't have a bogged-down, waterlogged surfboard if you just can't force yourself to paddle in from an epic session.
2. Rip Curl Flashbomb 3/2 Mens Wetsuit
A good wetsuit is key for any mission to Baja. Even though it sits south of San Diego, the water can often be much colder than the waters in SD County because Northern Baja sits outside of the Southern California bight. You might be in a pair of boardshorts and a wetsuit top in So Cal, but need a fullsuit and booties in Mexico. What makes the Rip Curl Flashbomb wetsuits ideal are their quick-drying and flexible features that will keep you warm and shredding all day long, or until the winds blow things out.
If you get spit out of the best barrel of your life in Baja and no one was there to capture it on video, did it really happen? The GoPro HERO4 can take you from zero to hero with one epic tube. GoPro's HERO4 is an easy way to capture all of your most memorable moments, from off-roading through untamed coastal roads to spear fishing for your nightly dinner. Every true adventurer should have a GoPro in their Baja kit.
Sit around the campfire and spin tales of surf missions, epic swells and magic surfboards in the your Napsack, the ultra comfortable wearable sleeping bag by the fine folks at Poler. You can un-cinch the bottom and unzip the arms, allowing for full mobility around the campsite. When it comes time to crawl into your tent, simply cinch up the bottom and zip up the sleeves for full sleeping bag coverage.
From the desert landscape of the surrounding hills to the bright reflection off of the Pacific, Baja is not the place you want to journey without shades. While we carry a large selection of sunglasses, these Dragon Tailbacks are an awesome choice for any true adventurer. From the polarized lenses to frames that actually float, these Dragon sunglasses can stand up to anything you can throw at them.

Stop into Hansen's or shop online for all of your adventure, travel and surf needs. From Baja to Bali, we've got you covered!