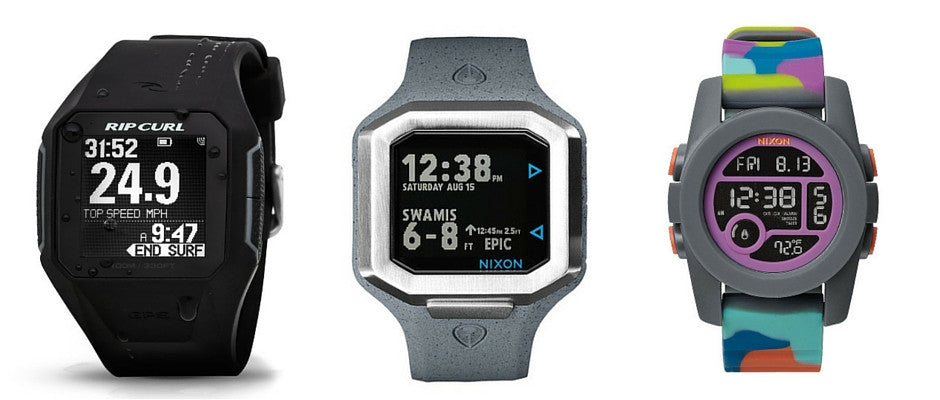 While today's surf watches still keep time like the tried and true timepieces that came before them, they have evolved into something much greater as technology has allowed for epic advancements in wearable technology.
From full tide charts to GPS technology that allows you to track your speed and wave count,  todays surf watch will not only make sure you make it to your next meeting on time, but might just make you a better surfer too.
Whether you're looking for the perfect gift or just want to make sure you don't overshoot your lunch session, these are five of our favorite surf watches to keep you punctual and ripping harder than ever this spring and summer.
1. Rip Curl Mens Surf Watch Search GPS 
 The Rip Curl Search GPS surf watch is the most technically advanced surf watch on the market and definitely tops our list of most wanted watches. With this bad boy, you can track not only your wave count but also how fast you surf. Think you can go down the line faster than Mick Fanning? The Search GPS will give you a chance to try and out race the former World Champ.
Nixon teamed up with Surfline, the world's premier surf forecasting website, to create a watch that provides up-to-date surf reports for all of your favorite spots. Want to know if it's firing at Swami's? The Ultratide surf watch will help you determine where and when to go for maximum stoke.  
3. Vestal Watch Brig Tide & Train
If you have ever watched Jordy Smith boost an overhead air or manhandle power carves, then you might want to pick up the Vestal Brig surf watch, as it is the South African powerhouse's signature model. With an easy to manage tide chart and training interval settings, you can dial in your surf training and finally really learn to put it on rail.
4. Rip Curl Womens Watch Winki Oceansearch
This one is for the ladies, and it doesn't skimp on performance or style. The Rip Curl Winki Oceansearch surf watch not only has a full tide function and moon phase, but it is also chic enough to wear for happy hour with the ladies.
Sporting clean design and great functionality, the Watch Unit 40 is a surf watch that is as coastal cool as it is functional. Although it does not boast all of the same tech that the other watches do, it's an easy to wear watch that offers a very cool pared down look at an affordable price. If you're the fashion forward type, this  is an awesome choice.