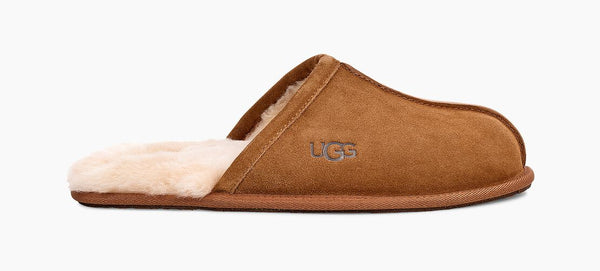 UGG Mens Slipper Scuff
$ 90.00
Product Details
UPC : 1101111
Manufacturer : UGG
Our favorite house slipper is made for weekends and nights in, with soft wool lining and an easy slip-on shape. With its thin rubber sole, the Scuff is best worn indoors. We recommend with bare feet to experience the warm, temperature-regulating, and moisture-wicking qualities of wool.

This product was made in a factory that supports women in our supply chain with the help of HERproject, a collaborative initiative that creates partnerships with brands like ours to empower and educate women in the workplace.

Sheepskin Lining Vetted through extensive, industry-leading processes to ensure only the highest quality sheepskin makes the cut, delivering the signature feeling of UGG.
Suede upper
17mm UGGpure™ upcycled wool vamp lining or 17mm UGGplush™ 80% upcycled wool, 20% lyocell vamp lining
17mm sheepskin insole
Foam footbed
Suede outsole
Polyester binding or textile binding made from 100% recycled polyester fibers
Heat-embossed UGG® logo
RN 88276
This product contains real fur from sheep or lamb. Fur may be sourced from Australia, Ireland, the United Kingdom, or the United States. It has been artificially dyed and treated.
**Discount codes are not valid on UGG™ purchases**